In retrospect, this spring's broad market sell-off was a perfect set up for Facebook's (NASDAQ:FB) stumble out the gate and has spooked US IPO investors in May. Just as in April, 21 US deals were scheduled to price in May, but while 76% of launched deals were completed in April, only 52% priced in May.

May IPOs fall, despite pricing discounts
While Facebook's performance could reasonably be blamed for the postponement of Kayak's (NASDAQ:KYAK) launch, the jittery atmosphere was clearly established much earlier. With the weekly calendar size at a 21-week high, only five of twelve deals priced the week of May 7, making it difficult for less glamorous deals like Corsair Components (CRSR) and Tria Beauty (TRIA) to get priced.

Even excluding Facebook, aftermarket investors were stuck with an abysmal -6% return for the month, a year-to-date low. The negative returns in May came despite a large number of discounts (36% of deals priced below the range). Seeing those kinds of returns and the recent spike in volatility (the VIX is at 25, a year-to-date high), fourteen companies pulled deals, the highest level since August 2011.

As of May 31, more than half of May's deals were trading below their offer prices and only one, online bank EverBank Financial (NYSE:EVER), was showing a positive aftermarket return. The clear winner from the month was Joe's Crab Shack operator Ignite Restaurant Group (NASDAQ:IRG), which gained 22% on its first day and has held steady. The biggest flops (outside of Facebook) came from two companies with energy exposure, Pacific Coast Oil Trust (NYSE:ROYT) and PetroLogistics (NYSE:PDH), which are down 20% and 17%, respectively.

Confidential filings limit pipeline growth
As further testament to a weakening IPO market, new SEC filings in May totaled 11, down 67% from the 31 tally in May 2011. As reported by the SEC, approximately 30 companies have utilized the confidential filing process under the JOBS Act. The current US IPO pipeline includes 167 companies looking to raise roughly $41 billion; adding the confidential filings, the official US pipeline figures are closer to 195 IPOs looking to raise $44 billion.

Notable filings in May 2012 include:
Our private company backlog highlights yet-to-file IPO candidates
Our recently launched private company backlog included names like LegalZoom.com and classic American restaurant chain Cheddar's Casual Cafe (CHDR.RC), two companies that used the confidential submission process. Cheddar's, which is backed by Oak Investment and Catterton Partners, has yet to file publicly. This private company backlog is also subject to M&A activity, as evidenced by Salesforce.com's acquisition of Facebook brand developer Buddy Media (BMED.RC).
Asia Pacific IPO market comes to a halt
IPOs in markets outside of the US have also struggled to gain any traction in 2012. Through May, only 22 non-US IPOs were completed, down 60% from the year-ago period. In May alone, six foreign deals postponed their offerings due to investor pushback. Amongst the postponements were high-end jeweler Graff Diamonds (1306.HK), Chinese mining company China Nonferrous Metals (1258.HK), auto retailer China Yongda Auto (3669.HK), state-owned railroad system Georgian Railway (GEORR.RC), Russian real estate developer O1 Properties (O1P.RC) and Indian manufacturing conglomerate Samvardhana Motherson Finance (SMF.RC).
While the EMEA and Latin American markets have been virtually non-existent, the story of the year continues to be the struggles of the Asia Pacific IPO market. With just $4.4 billion in IPO proceeds raised year-to-date, Asia's IPO market is off to its slowest start since 2009, when the IPO market was effectively frozen for six months as a result of the global financial crisis. The once flourishing Hong Kong Exchange has produced a total of four listings this year, and none since the debut of Haitong Securities (6837.HK; +1.3%) on April 20.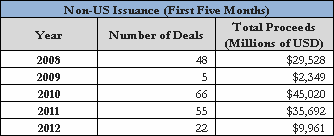 Note: Non-US IPO data includes deals that raise greater than US$100 million in IPO proceeds. Non-US IPO data excludes China A-Share market.