While Air Canada's (AIDIF.PK) fourth quarter results came in ahead of expectations, primarily on better unit costs, UBS analyst Fadi Chamoun is staying on the sidelines for now with a "neutral" rating, and C$10 price target.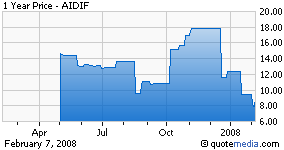 He cited both moderating economic growth that could put pressure on both the airline's revenue per available seat mile (RASM) growth and margins.
Then there is the uncertainty surrounding parent ACE Aviation Holdings Inc.'s [ACE.B/TSX] plans for its remaining 75% stake in the company.
In a a note, Mr. Chamoun told clients:
The direction ACE ultimately takes to unwind its business will likely have a significant impact on the value of Air Canada shares.