IAMGOLD Inc. (NYSE:IAG) investors got some much-needed good news Wednesday when the gold miner announced a new mill expansion at its Rosebel mine in Suriname.
The C$18.4-million investment in Rosebel should increase gold production at the mine from 275,000 ounces per year to 300,000 to 305,000 ounces per year. It will also reduce direct cash costs for the mine by C$35 per ounce.
Wellington West analyst Catherine Gignac told clients in a note the increased production in 2009 improves IAMGOLD's net asset valuation going forward.
"The increased gold production in Rosebel improves our estimate of gold production to 975,000 ounces from 952,000 ounces and lowers cash costs to $446 per ounce from $459 per ounce," she said, adding her NAV estimate rises 14% from C$8.63 to C$9.81 per share.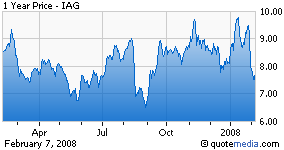 Despite the NAV increase, Ms. Gignac reiterated her "market perform" rating and left her C$9 price target on IAMGOLD shares unchanged, saying the company continues to face operational challenges going forward.
Last week the company announced lower-than-expected production guidance and rising cash costs for 2008, then the company's Camp Caiman mine license in French Guyana was rejected by the French government.