Cameco Corp.'s (NYSE:CCJ) fourth quarter results were a disappointment but the company's outlook appears to be in line with analyst expectations.
Cameco's adjusted net earnings were C$0.22 per diluted share compared with the Street estimate of C$0.48. The shortfall was blamed on the company's fuel services segment – in particular, the shutdown of the Port Hope plant which caused an earnings before tax loss of C$36-million.
On the bright side, the company's outlook remains unchanged with 2008 earnings per share expected to reach C$2.21 per share, and 2009 EPS to reach C$1.71 per share.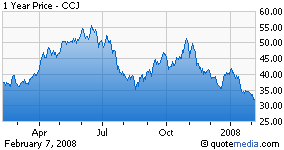 The company also reconfirmed that it will maintain uranium production at 20.6 thousand pounds in 2008 and 22 thousand pounds in 2009.
Desjardins analyst John Redstone said Cameco's earnings and production estimates meet his current expectations. He said he continues to expect uranium prices to average $60 per pound this year and $50 per pound in 2009, and believes Cameco shares are fully valued at the moment.
He maintained his "hold" rating on the stock, and left his C$34.20 price target unchanged despite hints from the company that it is getting nearer the point that it could make acquisitions in the future.
"We do not see the potential for acquisitions as a reason to increase our current recommendation on the stock," he wrote in a note to clients.