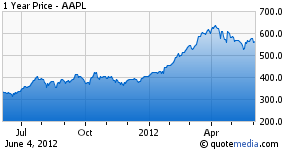 Apple (NASDAQ:AAPL) has crazy growth. On average, revenue has climbed by more than 40% a year for the last five years. To top it off, Apple is experiencing accelerated revenue growth, something rare in this business, as the iProduct company takes market share away from HP (NYSE:HPQ), Nokia (NYSE:NOK), and RIM (RIMM), to name a few.
Overseas markets drive that growth. Apple sells a ton of iProduct here, but its most explosive growth lies offshore. Sixty-four percent of sales is international.
While Apple is growing in all geographical areas - the Americas, Europe, Asia-Pacific, Japan, and its retail division - its growth is more dynamic in Asia than any where else in the world. Sales in Asia grew a whopping 114% last quarter. Asia now accounts for almost 21% of sales. Only 3 years ago, less 8 percent of Apple's sales were from Asia. (Remarkably, it wasn't until 2010 that Apple broke out Asia's contribution - until then, Asia was listed under "Other Segments" in a footnote.)
China is behind the expansion. CEO Tim Cook pointed out China's "mind-boggling" growth.
Revenue...was a record at $7.9 billion in Greater China, which is up over 3x year-over-year and brings the first half revenue for Greater China to $12.4 billion. That compares to a full year last year of $13.3 billion.
It's a good bet the trend will continue. Asia is a gigantic market creating a huge opportunity for Apple.
Could Weakening European Sales Make Apple Vulnerable?
European concerns pose serious risks for multinational corporations. Companies dependent on Europe have to be reassessed. The Grecian crisis is spreading. How exposed is Apple to the PIIGS maelstrom?
Europe is booming.
European sales grew 46% last quarter. That's during the Southern Europe debacle. What other company can increase European sales like this? Despite its dynamic growth in Europe, Apple is becoming less dependent on Europe for its revenue as Asia becomes a more stronger market. Two years ago, Europe made up 29% of sales. Now it represents only 23% of Apple sales. Note Apple lumps the Middle East and Africa into Europe while Japan gets its own "continent" - go figure!
All in all, Apple has a well-diversified sales distribution. It is not overly concentrated in any one locale, making it far less vulnerable to a regional disaster. The terrible Japanese earthquake barely impacted overall sales. It is unlikely that further economic woes in Southern Europe would seriously dent Apple revenues.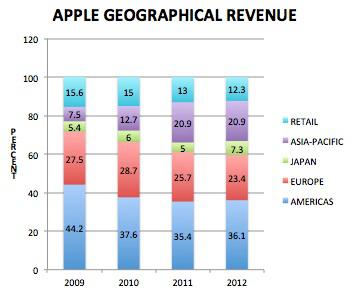 Further, Europe is becoming a smaller share of Apple's operating income.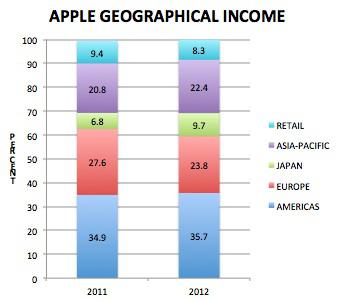 Asian markets have grown much faster than European ones. Europe now plays a smaller role for Apple, making the iProduct company less vulnerable to Greece, Spain and Italy.
A Stock Is A Stock
While Apple the company will prosper despite the European Union crisis, Apple the stock will likely see significant turbulence. The mechanics of the market are likely to put pressure on the stock.
I am reminded of the 2008-2009 stock market crash when Apple dropped from $200 to $80 despite impressive earnings and sales growth. Beating estimates didn't spare Apple from gut-wrenching declines. Robust iPhone sales didn't stop its share price from falling. Funds faced with withdrawals and investors experiencing margin calls sold everything, often indiscriminately. When panic hits, even the stocks of strong companies get pummeled. Be careful out there!
Disclosure: I am long AAPL.
Disclaimer: The opinions in this document are for informational and educational purposes only and should not be construed as a recommendation to buy or sell the stocks mentioned. Past performance of the companies discussed may not continue and the companies may not achieve the earnings growth as predicted. The information in this document is believed to be accurate, but under no circumstances should a person act upon the information contained within. We do not recommend that anyone act upon any investment information without first consulting an investment advisor as to the suitability of such investments for his specific situation.