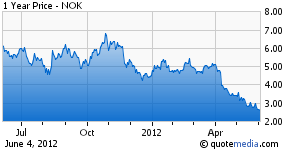 Nokia (NYSE:NOK) has been one of the foremost mobile communication equipment providers in the world. The company is based in Finland and currently trades at around $2.80 per share with a market cap of $10.5 billion.
Nokia is a world class company that had been the largest manufacturer of mobile phones in the world. However, Nokia's business slumped in the first quarter of 2012 and its 14 year reign as the top seller of mobile phones ended. During the first three months of 2012, Samsung (OTC:SSNLF) sold 93.5 million mobile phones and had a 25.4% market share, that topped Nokia, which sold 82.7 million mobile phones and had a 22.5% market share. "Nokia's global handset shipments declined a huge 24 percent annually to 82.7 million units in Q1 2012," Strategy Analytics's Neil Mawston said. "Volumes were squeezed at both ends, as low-end feature phone shipments in emerging markets stalled and high-end Microsoft (NASDAQ:MSFT) Lumia smartphones were unable to offset the rapid decline of Nokia's legacy Symbian business." Nokia's first quarter year-over-year smartphone's sales dropped by 51% from 24.2 million in the first quarter of 2011 to 11.9 million in the first quarter of 2012.
Nokia reported first quarter earnings on April 19th. During the first quarter, Nokia reported earnings per share of $-0.33 versus earnings per share of $0.13 in the first quarter of 2011. First quarter revenues were $9.79 billion versus revenues of $14.75 billion in the first quarter of 2011. First quarter net income was $-1.23 billion versus net income of $488 million in the first quarter of 2011.
On April 10th, when the news of Nokia's falling sales and revenue went public, the stock price dropped by 18.8% to $3.92 per share. As additional details of the first quarter debacle became public, the stock price continued to drop. Between March 28th and May 25th the stock price dropped by a staggering 55%. I expected that Nokia would have weak first and second quarter sales and earnings. I also expected that sales of its Symbian based smartphones would fall, once buyers found out that Nokia would be dropping its Symbian powered smartphone's, in favor of the new Microsoft Window Phones powered smartphones. However, I was somewhat surprised by how negatively investors reacted to the first quarter sales and earnings results. Judging by the steep drop in the stock price, many investors must believe that Nokia is on the road to bankruptcy.
While Nokia's earnings and market share have genuinely suffered, I do not believe that the company will go bankrupt. The company is transitioning for the future and has the financial resources and the positive name recognition to survive this downturn. Nokia is still the number two manufacturer of mobile phone units and it has the backing of the Microsoft. Nokia will use Microsoft's Windows Phone operating system in its new Lumia smartphone models.
As part of Nokia's transition it will upgrade almost all of its mobile phone models. For instance, in Asia, the company has "delivered consumers more aspirational designs and experiences through 7 new Asha products." In January Nokia launched its Lumia 710 which will be distributed by T-Mobile in the United States. The Lumia 710 is a low cost smartphone (around $50) which has been well received and has exceeded sales expectation. In April Nokia launched sales of the Lumia 900 smartphone in the U.S. The launch exceeded expectations and the Lumina 900 has been well received and "has 350 costumer reviews with the average review having 5 stars. The phone received 308 five-stars, 20 four-stars and only 7 one-star." The Lumia 900 smartphone will be distributed through AT&T (NYSE:T). AT&T plans to spend $150 million on the marketing of the Lumia smartphone. I have seen some of the Lumia smartphone commercials on TV and I think that they are smart and convincing. "AT&T has said its marketing blitz for the Lumia 900 will be its largest ever for a smartphone, eclipsing even the iPhone."
Positives for Nokia moving forward
Nokia is down, but it has big turnaround plans. In addition to the United States launch of the Lumia 710 through T-Mobile and the Lumia 900 through AT&T, the company launched the Lumia 800C in China and has plans to launch its Lumia 610C, 710C and 900C later this year. Each of the new Chinese Lumia models will be distributed by China Telecom, which has one of the largest customer bases in China. In additional good news in the "U.K., Germany, Italy and France, where the Lumia 800 went on sale last November, Windows Phone is showing fast growth compared to a year ago - though its share is still in the low single digits." Despite Nokia's decreased earnings, it has still been able to maintain a large cash reserve. As of March 31st the company had about $13 billion in cash and equivalents.
On April 21st in a joint press release of Nokia and Microsoft, it was announced that, "In recognition of the unique nature of Nokia's agreement with Microsoft and the contributions that Nokia is providing, Nokia will receive payments measured in the billions of dollars ... Nokia will also receive additional payments as part of an intellectual property exchange."
Nokia has also begun a cost reduction plan and has moved production from Europe to Asia. In 2010, Nokia employed 19,810 people in Finland, 11,243 in Germany and 3,859 in the U.K. By the end of 2011, it employed 16,970 people in Finland, 10,992 in Germany and 3,232 in the U.K. Wages and overall production costs are significantly lower in Asia and it is estimated that the company will save about $930 million annually as a result of the moves.
Negatives for Nokia moving forward
As Nokia moves forward it will need to increase its percentage of the smartphone market. Unfortunately it will have to confront very tough competition from smartphone manufacturers like Apple (NASDAQ:AAPL), as well as from companies that use Google's (NASDAQ:GOOG) Android operating system like Samsung, LG Electronics (LG) and HTC (HTC). Samsung which is the largest smartphone manufacturer in the world, is growing fast and has 30.6% of the smartphone market, while Apple which is also growing fast is the number two smartphone manufacturer and has 24.1% of the smartphone market. Nokia is currently in third place with a market share of 6.2%.
Conclusion
Nokia is in deep trouble and the drop in the stock price reflects that. The company has been losing money and market share while rapidly burning through cash. If Nokia is to survive, it urgently needs to complete its turnaround. With that said, the company has taken steps to turn things around by partnering with Microsoft and launching new products lines in North America, South America, Europe and Asia. It is still too early to judge how successful Nokia's new product lines will be. However, Nokia's stock is dirt cheap and investors that are willing to take a risk could be big winners if the company is successful in its turnaround efforts. If Nokia's Windows powered phones catch on, I think Nokia stock could see a $2 to $3 increase by early 2013. Despite this, investing in Nokia is risky and prospective investors should do further research.
Disclosure: I have no positions in any stocks mentioned and no plans to initiate any positions within the next 72 hours.