We all are aware of the major energy crisis that has affected everyone's pocket. One reason for the high price at the pump is that emerging markets like Malaysia, Brazil, and Mexico's economies are growing at an ominous pace. Today, companies all over the world are allocating a larger portion of their research and development on alternative energy options.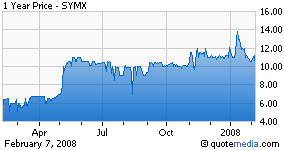 One alternative energy company, Synthesis Energy Systems (NASDAQ:SYMX), is a relative newcomer to this field. The executives of the company however, are time tested and have developed a gasification technology that breaks down coal into a synthetic natural gas. This patented gasification technology has been tested by the Gasification Institute over the past 30 years. Synthesis Energy Systems has empirical data indicating that their system can break down waste coal into several different components that are cleaner and at half the cost than any company today. Components such as: Methanol, Hydrogen, and Natural Gas.
They have joined up with Consol Energy (NYSE:CNX), as well as Ashmore Energy, in locating sites and developing their gasification plants through out the US and China. In November 2007, Synthesis Energy completed the only gasification plant of its kind in Hai Hua, China. The company has broken ground on a $100 million plant which will be completed in the spring of next year, as well as another project in which they are close to breaking ground.
This is an exciting time for alternative energy companies, and I feel that there will not be just one winner when the race is near the end, but several. This is an area that is growing at light speed, and can be very speculative, but I'm ardent on the fact that everyone should have a piece of SYMX in their portfolio. As always please do your own due dilligence.
Disclosure: Author holds a position in SYMX