Cisco (NASDAQ:CSCO) can be seen as a bellwether for the Technology sector, as they provide the backbone for so many internet systems. CEO John Chambers reported 2nd quarter earnings basically in line with Wall Street expectations in a conference call Wednesday evening. Net income rose 7.2 percent and sales increased nicely by 16.5%. This result would have been even better but sales slowed in January after a solid December.
However, it was his forecast of "lumpy" sales growth in the 3rd quarter that caused the stock to plummet 7% in after-hours trading. What exactly does "lumpy" sales growth mean? Cisco is projecting sales growth of about 10% over the 3rd quarter a year ago, which falls short of Cisco's long term growth forecast of 12%-17%.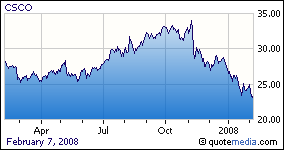 Chambers is now famous for having had his head buried in the sand before the tech bubble burst in 2001. Back then, he continued to project 50% sales growth after it was apparent the tech sector was going down hard. In this case, he is clearly concerned that the slowing economy will hurt sales of Cisco products as customers try to get by with older equipment or buy products from lower priced, less proven competitors such as Juniper (NYSE:JNPR) and Extreme (NASDAQ:EXTR).
While that is a valid concern, we would like to point out that Cisco enjoyed revenue growth of 53% in Emerging Markets, particularly China, India and the Middle East. An economic slowdown in the U.S. could certainly hurt their bottom line, but the trend in internet and IT spending in those emerging markets shows little sign of slowing greatly. Also, businesses at home and abroad will need to upgrade equipment in order to support the more data-intensive internet usage of video conferencing and other large file sizes that are becoming more common.
From a value investing perspective Cisco is quite attractive. Price to cash flow is currently 13.58, but the historical range is significantly higher, 20.61-34.14 dating back to 1999 with more recent years given more weight. Price-to-sales is likewise below its normal ranges, albeit to a lesser extent. Given what we already understand about Cisco's cash, sales, etc. our methodology rationally expects a low-end price target of $33.11. Sales growth has been particularly good for Cisco and even after reducing expectations for the next quarter, 10% is nothing to scoff at.