Key Statistics*
Mkt. Cap: $122.3M
P/E: 11.14x (FYE 9/29/2009)
EV/EBITDA: 7.47x
Yield: 5.5%
Operating Margin: 9.13%
ROE (ttm): 21.59%
Analyst Coverage: Dean Haskell of Morgan Joseph & Co. Inc.- PT of $45.00; 2009 EPS estimate of $2.93; 2009 Revenue estimate of $162.74M.
* Source: Yahoo! Finance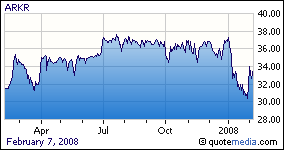 Profile*
Ark Restaurants Corp., through its subsidiaries, engages in the ownership and operation of restaurants and bars, fast food concepts, catering operations, and wholesale and retail bakeries. As of September 29, 2007, it operated 23 restaurants and bars, including 7 facilities located in New York City; 4 in Washington, D.C.; 5 in Las Vegas; Nevada; 2 in Atlantic City, New Jersey; 3 at the Foxwoods Resort Casino in Ledyard, Connecticut; and 1 in the Faneuil Hall Marketplace in Boston, Massachusetts, as well as 24 fast food concepts, catering operations, and wholesale and retail bakeries. The company was founded in 1983 and is based in New York, New York.
* Source: Yahoo! Finance

Investment Thesis
I came across Ark Restaurants and decided to do a further investigation into the company after I discovered, while dining at El Rio Grande Restaurant in Manhattan (located at 160 East 38th St. between Lexington and 3rd), my favorite restaurant, was now under partial ownership of Ark (has a 19% stake in the partnership that owns this restaurant). It was closed for a couple years, for reasons I am not completely sure of, but luckily it's back and thriving, with the best steak nachos I have ever had. I believe that as an operator of "distinctly designed restaurants"** in highly visible, upscale locations that include a favorable people vs. restaurants seats ratio, Ark is well positioned within the industry. In financing its projects, Ark prefers to make use of partners and/or using landlords to subsidize the company's construction costs with tenant improvement money when possible, although when projects are favorable enough, will enter into new projects on its own. Loeb Partners has also recently filed a 13-D, reporting a 9.49% stake in the company, while Prides Capital Partners decreased its stake from 14.8% to 10.6%. Springhouse Capital, run by a protege of Joel Greenblatt, Brian Gaines, also holds shares in the company. I believe some downside protection is provided by the 5.5% yield on the stock. On May 23, 2007, the company raised its dividend from 35 cents per share to 44 cents per share of common stock, a positive trend which signals in my mind the company's financial health. Chairman and CEO Michael Weinstein has a 29% ownership in ARKR common shares, which I believe is favorable because this aligns him with shareholder interest.
** Source: www.arkrestaurants.com

Corporate Background****
The origins of Ark date back to Michael Weinstein, who was a law school drop out and young investment banker, and two friends, with the opening of the Museum Cafe on the Upper West Side in 1975. When the partner running the business became sick, Weinstein took over managing the business and found that he truly enjoyed it. In 1977, Weinstein opened Peretti and later the Metropolitan Cafe in 1982. In 1983, with Ernest Bogen, Weinstein formed Ark Restaurants as the holding company for the four restaurants and later took the company public in 1985. Even in the early days, the company attempted to keep costs low through tough bargaining with landlords, as well as locate in up and coming Manhattan neighborhoods. In the early 90's the company expanded into Washington, D.C. with America in the newly refurbished Union Station (1989) and later Sequoia along the banks of the Potomac. Investment analysts, however, continued to shun Ark for its lack of focus on one single restaurant concept. However, I believe this is favorable as it gives the company flexibility, allowing the company to expand into various different markets. In 1997, the company entered into the Las Vegas market. Ark was known for a paternalistic type policy in a high turnover industry, "offering medical benefits to anyone working at least three shifts a week and giving its staffers, many of them artists or actors, time off for a theater role with a guaranteed job on return". When one of the company's restaurants was closed for 8 months for remodeling, Weinstein kept the entire 325 person staff on the payroll.
**** Source: Business & Company Resource Center (Galenet)

Input Price Concerns from Q307 call, and Economic Outlook Commentary from Q407 Call
On the Q307 call on August 14th, Michael Weinstein stated that the company has been struggling with increases in input costs like everyone else, but has suggested that the company is small enough to react quickly. Another unique element about Ark's business model is that the company's buying department is hooked in by computer to every single chef, allowing chefs to immediately see the cost of orders for food that they place. As a result, Michael Weinstein says that "if salmon is very high one they go to cod as the special". The company also is one of the best payers in the industry, usually paying to all suppliers within 10 days, giving Ark some increased bargaining power here. The company smartly anticipated a possible rise in price in Spring of 2007, and started to raise the prices of menu items, not across the board, but on the edges. For example, the company tries to find little spots, like iced tea refills, where it will charge for the second refill, but not the third, fourth, fifth, and so on. Finally, while the company locates itself in landmark locations, it is generally not as expensive as its competitors.

With the difficult economy, Michael Weinstein reiterated in the Q4 call that cost pushing will be a key element of the entire industry in 2008. However, he feels that because of the company's focus on prime operating locations in just a few cities, the company will continue to be productive with sales. The company sees itself running on 5% comps going forward.

Operating Performance***
Same store sales for Q407 were up yoy by 10.4%, with NYC up by 12.7%, Las Vegas up by 5.5%, Washington D.C. up by 18.0% and Atlantic City up by 25.3% (off of a low base). Q3 same store sales yoy were up by 10.9%, in Q2 were up 7.9%, and in Q1 were up by 7%. In a generally difficult operating environment in the second half of 2007, with a fairly weak consumer during this time period, these operating results I believe are encouraging. EPS estimates for 2008 were revised upwards from $2.50 to $2.63 and were raised from $2.80 to $2.93 for 2009 in the past 30 days. Management, however, admits that increased tourism from a weaker dollar may have a lot to do with the favorable comps in the New York and Washington markets.
*** Source: ARKR 8-K filings

Valuation
I am basing my valuation off of median forward P/E multiples for ARK's peer group, which is depicted in the table below.*
* Source: Yahoo! Finance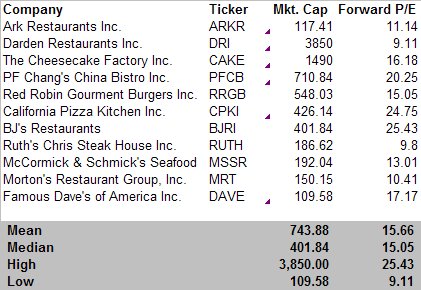 Based on a median peer group multiple of 15x 2009 EPS and applying sell-side estimates of $2.93 2009 EPS for Ark Restaurants, I believe ARKR common shares are worth $44.00 per share (~33% upside). I believe an upward valuation is warranted given the company's strategic focus on distinct restaurants located in highly visible, fairly upscale locations and strong operating performance even as the consumer has been weak and restaurants as a group have shown weak operating performance. I feel that downside is limited by a 5.5% dividend yield (as mentioned in my investment thesis), and possible increased in the dividend. Based on superior operating metrics and what I believe is superior management, the company could trade at a premium to its peer group, although I feel this may not be warranted at this time due to the difficult operating environment.

Q407 Developments, Catalysts & 2008 Development Pipeline
Besides continued positive operating performance in Q1CY08, the end of negative catalysts affecting the industry, including a weak consumer and high input costs will in my opinion prompt value enhancement. The acceleration of Durgin Park may also help the share price. On the Q407 call, Michael Weinstein commented that when the company bought Durgin Park, it was an inefficient operator, but feels that the restaurant has been fixed and should do well in 2008. The CEO also commented about the company's dividend. As the company feels that excess cash in this business is not always warranted, it sounded like the company may look into doing another special dividend in the future (last year it did a special $3.00 dividend), but at this time may keep a little extra cash due to concerns over the state of the economy, which I believe is a smart policy. Weinstein suggested that the company may become more aggressive in 2H08 with its cash (he sees about $20 million in cash on the balance sheet at this time), possibly pursuing acquisitions at more favorable prices, increasing its dividend, or doing another special dividend. The company also acquired the exclusive rights to a banquet facility in New York City, and will also see a banquet facility in Las Vegas come fully online now that the hotel rooms here are complete.

The company plans to be the sole provider of a fast food court in Foxwood, a new MGM Grand Tower, that has 8000 square feet of space, and also has plans to open a location at Yolo's at Planet Hollywood in Las Vegas in October 2008. The company is putting up all the money at the Planet Hollywood location ($3 million), but has a lease that is apparently way below market based on comments by Weinstein. In the MGM Grand project, the company has tenant improvement money from the landlord and has its partners, The Seminole Indian Reservation and Foxwoods fast food, putting up the money. The company has been in discussions as well with Delaware North regarding opportunities at the new Yankee Stadium.

Disclosure: Author does not currently hold any position in Ark Restaurants Corp., but may consider purchasing shares going forward.