There is something out there that has plans for world domination and it's not the Joker from Batman. It's Volkswagen (OTCPK:VLKAY) - which plans to become the world's largest automaker by 2018. I admire the company for setting a lofty goal and working towards achieving it.
The company currently has a market cap of $66.37 billion and sells vehicles under the following brand names: Volkswagen, Audi, SEAT, KODA, Bentley, Bugatti, Lamborghini, Scania, and MAN. To reach its goal VW, is focusing on achieving 800,000 vehicle sales in the U.S. by 2018. This represents a 147% increase in U.S. vehicle sales - a lofty goal.
The Passat and Jetta are considered paramount for U.S. sales. The Passat is competing with the Honda (NYSE:HMC) Accord, Toyota (NYSE:TM) Camry, and Ford (NYSE:F) Fusion. The Jetta is competing with the Honda Civic, Toyota Corolla, and Ford Focus. The Passat and Jetta would need to become best sellers in their class for Volkswagen to reach its goal. That is, unless the company can quickly develop other new great selling models. Could you envision more Passats and Jettas on the road than Civics, Accords, Corollas, and Camrys? That's one difficult challenge.
The most important area that needs to be addressed by Volkswagen is reliability. Volkswagen has lagged behind Honda and Toyota for many years in the past. The recent 2012 Consumer Reports auto report shows Volkswagen towards the bottom of the heap for reliability with only Mercedes, GM (NYSE:GM), and Chrysler below it. I find it difficult to believe that Volkswagen could become the number one automaker with such a poor reliability ranking. If it displayed a track record in the last several years of coming remotely close to Honda and Toyota, then I would have a different opinion.
Click to enlarge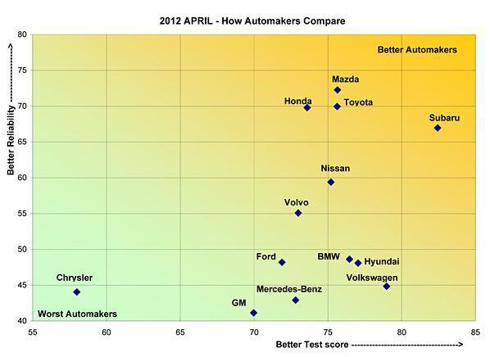 If consumers are going to spend $20,000 or more for a vehicle, they are going to want one that is reliable for the long term. Volkswagen will need to quickly earn a new reputation for reliability to become the number one global seller of autos.
On the financial side, Volkswagen is deeply undervalued. It has a trailing PE ratio of 3.14, a forward PE of 6.22, and a PEG of 0.07. The stock is trading at $28 - which is under its book value per share of $32.
Volkswagen has a profit margin of 10%, operating cash flow of $9.26 billion, and free cash flow of $6.43 billion. The balance sheet looks good, as the company has 1.13 times more current assets than current liabilities.
Volkswagen is expected to grow earnings annually at a lofty 48.8% for the next five years. I have a difficult time believing that growth. I would believe it if Volkswagen ranked significantly higher in reliability. If Volkswagen was able to achieve this growth, the current stock price of $28 could reasonably grow to $204 in five years.
Although I do admire Volkswagen's efforts aimed at setting and working towards a lofty goal, I need to see more substance in its products before the goal becomes believable. German engineering has always been great for performance, but reliability has not matched that performance. Volkswagen still has a lot of work to do to make its dreams a reality.
Disclosure: I have no positions in any stocks mentioned, and no plans to initiate any positions within the next 72 hours.