Sometimes a confluence of events serves to provide investors with a bountiful windfall or a demoralizing defeat. Often times the same series of events will produce both effects dependent only on which side of the trade one is on. That may be what has happened in the case of Jamba Juice (NASDAQ:JMBA).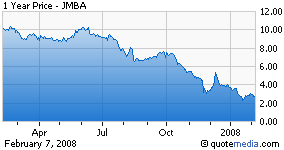 In the past six months Jamba's stock has swooned from $8 a share in September to close Wednesday at $2.76. Several factors contributed to the freefall. Last month the company reported fourth quarter and fiscal year 2007 results to the disappointment of the street. Analysts called for revenue to measure $64 million for the quarter and $327 million for the year. Jamba reported $54.5 and $317.1, respectively. The stock lost 15% in the session following the announcement.
Jamba Juice has continued to languish, shedding another 10% over the last several weeks. A downgrade, by a Wedbush Morgan analyst, and the general fears of recession which have hung over the market in early 2008 bear some of the blame. But, looking over the numbers, I've come to wonder if the street hasn't overreacted somewhat.
At these levels Jamba Juice trades at just a .5 price to sales ratio using numbers from the prior twelve months. That's downright cheap, especially for an outfit sitting on $44.5 million and carrying zero debt. And though revenues did not meet expectations, the company still delivered an 18% increase over 2006 sales.
While the current economic environment does not favor the company, the worst is already factored into the current price. In the event of a sustained recession, Jamba Juice would likely suffer. However, with $0.85 a share in the coffers, how much lower could the sale price recede?
Certainly economic conditions will improve in time. For investors with a considerable time horizon, Jamba Juice may prove an intriguing value.
Disclosure: I do not own shares in any of the companies mentioned.