Well, it has been quite a journey for Research In Motion (RIMM). Just a couple of years ago they were basically the undisputed kings of the smartphone, or at least their rendition of it. Just about every businessperson of importance had a RIMM 'terminal' to stay in touch with his company 24/7. Ok, the phones were a bit big and unwieldy, and had fiddly little keyboards and screens, but they were must-haves and ahead of the competition.
Then came Apple (NASDAQ:AAPL), followed by Google (NASDAQ:GOOG) with Android, and Samsung and HTC with killer phones that introduced the concept of applications or 'apps,' little pieces of third party software to give the phones additional functionality. And these phones had touch screens and motion detectors, and a little later they had retina displays that made web browsing a much more pleasant experience. For RIMM, it has all been downhill from there.
The market share of Blackberry phones as well as the stock price started a rather significant decline. In February last year, the shares still noted $70 (at the start of 2008 this was even $140), today the shares trade around $11. The downward trend seems to have accelerated this week when RIMM announced rather dire (and unexpected, sort of) losses for the first quarter (preliminary results) on May 29.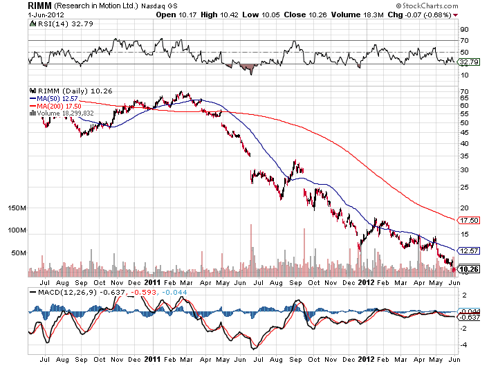 It also announced that it had hired investment banks (JPMorgan and the Royal Bank of Canada) to evaluate strategic options. We'll discuss below what that could mean. First:
Some key statistics
Market cap $5.78B
Revenues (12 months to date) $18.44B
$1.77B in cash, no debt
Plant, buildings and machines take up another $2.75B on the balance
Intangibles (intellectual property and goodwill) another $3.92B
Cash flow from operations is still very positive, at $2.91B the last 12 months, however this is all spend in investing
Looking at the earnings per share the last four quarters that is $1.33, $0.80, $1.27 and $0.80
This year, analysts expect $1.90 per share, $1.72 next year, although one should keep in mind that there is hardly consensus amongst analysts, the high estimate for this year is $4.01 with the low estimate a 22cent per share loss. For next year, the divergence is even wider with the most pessimistic analyst expecting $2.42 loss per share, while the most optimist thinks the company will earn a whopping $4.94 per share.
Still, at $5.3B, the market cap seems to price in a lot of problems. Adding up the cash, the intangibles and the plant and buildings one arrives at least at $7B, even if, as Jefferies analyst Peter Misek argues, the patents are 'only' worth $2.5B (rather than the $3.28B on the balance).
So one could argue that the company is cheap, but cheap only if it manages to avoid making the steep losses that now look all but a certainty. Apparently, that's not what CEO Thorsten Heins thinks. He sees "significant progress on a number of fronts."
Our global subscriber base continued to grow this quarter to approximately 78 million, driven primarily by growth in international markets, which is partially offset by high churn in the United States, and our BBM user base has grown to approximately 59 million users globally. [RIMM PR]
Well, whatever the optimism in that PR, the fact is that they didn't hire those investment banks for nothing. What are the chances of a stabilization of the stock price? We think three items will be decisive:
Can RIMM halt, or even revert its market slide in the face of the Apple, Android, Microsoft and perhaps even Facebook phones?
Can it grow other businesses or license or sell intellectual property?
Is the company a take-over target?
Many high-ranking officers have already left. After the Q4 figures, longtime board chairman and co-CEO Jim Balsillie was dismissed from the board, shortly after he and co-CEO Mike Lazaridis were fired as CEO. Its top lawyer, Karima Bawa, resigned, just as Patrick Spence, head of global sales. So much for the new CEO's optimism...
Black days for Blackberry
Unfortunately, the market share for Blackberry phones keeps on sliding. As a percentage of smartphones, the market share was 13,4% in February, a fall of 3.2% since last November. RBC (which is the same Royal Bank of Canada that is engaged in surveying the strategic options) argues that its market share will soon fall under 5%, if true, needless to say this would be rather problematic.
The big bogeyman which wrong footed RIMM were the apps which Apple, and then Android, came up with, enlisting the intelligence and acumen of third party software producers to enhance the end-product experience. The problem for RIMM is that despite some advantages (in security and compression algorithms), Apple and Android phones have been such a success that this seems a very uphill battle indeed.
BlackBerries still enjoy strength with corporate customers, exactly because of the superior security features. But employees have greatly inflated expectations for their devices, resulting in increasing numbers of companies changing to a 'bring your own device' policy, shifting access to corporate data and communication to the device of the employee (rather than providing these devices for them).
This is cheaper and makes employees more happy, but it's not without drawbacks as central management of a diverse universe of devices becomes something of a headache for corporations. It's here that there might, just might be an opportunity for RIMM's Fusion platform (see below).
There is something of a vicious cycle going on. The smaller the market share of BlackBerry phones, the less attractive it becomes to develop applications for its 'ecosystem,' further undermining its attractiveness to consumers. One way out of this is to get as many developers on board as possible.
RIMM is pulling all the plugs here. A recent developers conference provided some hefty incentives. Apart from paying travel expenses, RIMM also provide developers with $10,000 in cash. The quality of the application has to be certified and generate at least $1000 in sales, RIMM will pay the other $9000. That's quite an incentive, but crucial to create critical mass of apps. Whether it is enough really remains to be seen.
Much hope is invested in the upcoming new operating system and phones, BB10, but these will not be around until much later this year. That almost guarantees one or two more bad quarters and having to compete against the iPhone 5, which seems a pretty tall order to us.
There will be a nice market for Blackberry in law enforcement (and even the other side), financial services and the Government (but even that might be about to change), as long as their security features are superior to those of the competition. Even that was under attack the last year, when governments in some countries demanded access to BlackBerry user conversations, but that storm seems to have come and gone. But whether this niche market is enough for RIMM to survive, we doubt it.
Its tablet, the Playbook, also faces stiff competition from the same players (Apple and the Android crowd, soon to be joined by Microsoft's new operating system Windows 8, which is optimized for tablets). It has only a 2.3% market share (against Apple's 62.8%) and we doubt very much RIMM actually makes money on them, having stunted with the price more than once. PlayBook tablets currently retail for less than half their original MSRP, according to Dailytech. Indeed:
A $485M USD write-down on unsold Playbook inventory in calendar Q4 2011 and a calendar Q1 2012 $267M USD write-down on BlackBerry inventory helped to drive long-profitable Canadian phonemaker Research in Motion, Ltd. (TSE:RIM) into the red cash flow-wise early this year.
Add to that the piling up of unsold BlackBerry 7 devices and you'll understand the trouble they're in. What's more:
After examining operating costs and inventory costs, Peter Misek, an analyst at investment banking firm Jefferies, found that RIM is spent 4 percent more per handset than it took in, in 2011. [Dailytech]
Other avenues
According to Peter Misek of Jefferies, RIMM owns $2.5B in patents, execution value. They also own a network which carries their global traffic and guarantees monthly subscription fees. RIMM also has plant, buildings and machines ($2.75B on the balance) and cash ($1.77B). One could argue that the sum of the parts exceeds the total.
Last December, there were still optimists:
Alkesh Shah, an analyst at Evercore Partners, estimated that the company was worth closer to $22.50 a share, even assuming that the handset business is essentially worthless. Mr. Shah said that RIM's network, which carries global traffic worldwide and generates monthly subscription fees, was worth about $12.50 a share, while he valued the company's patents at roughly $7.50 a share. The company also has $2.50 a share in cash, he estimated. [New York Times]
That seems rather excessive to us, but that there is considerable value on the balance is pretty sure. However, this strategy seems at least on the cards:
New chief executive Thorsten Heins has said he is considering transforming RIM into a licensed services company or selling RIM's assets to allow investors to recoup a portion of their recent losses. [Dailytech]
Fusion
One of the assets that receive comparatively little attention is the Fusion platform, one of many so called mobile device management platforms (MDM), systems for IT management that allow the management of devices used by employees.
Fusion is one out of only a few of the 80 or so MDM platforms that are in the market allow the management of BlackBerry devices by integrating with RIM's BlackBerry Enterprise Server. The other three are MobileIron, AirWatch, and FiberLink.
Fusion also includes the BlackBerry Balance technology, enabling BlackBerry owners to use their devices in both their personal and work settings by creating a secure 256-bit encrypted file system for work use. It's doing well, but is there room for further significant growth in an already overcrowded market? Here is Chris Hazelton, a research director at the 451 Group:
Mobile Fusion allows RIM to compete with these MDM vendors by adding on iOS and Android management, but it still requires a separate server for Universal Device Service," Hazelton pointed out. "So RIM is meeting what the market already delivers but is targeting its installed base of BES users to ensure they don't replace BES with an MDM server from MobileIron, AirWatch or FiberLink. However, "companies that are looking to reduce their IT footprint may not be willing to add another server," Hazelton cautioned. [Technewsworld]
So we'll have to wait and see for that one as well, but there is value in that platform and infrastructure, there is little doubt about that.
Takeover?
An outright sale would perhaps be most attractive for investors. In December last year, the New York Times mentioned the lack of enthusiasm from co-CEOs Balsillie and Lazaridis, but since these both have gone and investment banks have been hired, there is renewed speculation. Who would be candidates to take RIMM over?
We go with James Rogers from TheStreet.com who cites Paul Amsellem, president of the Mobile Network Group, a French based mobile marketing group, and sees Microsoft as the most likely candidate:
Amsellem, however, thinks that Microsoft and RIM could be a match made in heaven, citing RIM's strengths in email, instant messaging and data compression algorithms. "It would be useful for Microsoft to use these assets to enrich the Windows 8 platform," he told TheStreet, adding that the algorithm can help service providers ease the traffic burden on strained networks.
Because of heavy Government use of BlackBerries, sales to the Chinese might be looked upon dimly, or even outright vetoed.
Conclusion
We, as most other observers, see little short-term redemption in RIMM apart from a possible take-over. While early indications are that BB10 could be a very nice product, it's probably too late to turn the tide. Luckily enough there is more than one possible suitor, that might stem the rot in the share price at least relatively.
Disclosure: I have no positions in any stocks mentioned, and no plans to initiate any positions within the next 72 hours.