The most severe snowstorms to hit China in 50 years swept across the country last month, leaving factories shut down, transportation systems in ruins, energy supplies cut off, millions of acres of crops worthless, and hundreds of thousands of homes crushed by snow and ice. The storms, along with ripples from a U.S. economic slowdown, drove the Shanghai Composite Index to its steepest one-week loss since 1997. The index, which tracks the largest of China's stock exchanges, fell 9.3% for the week ending February 1.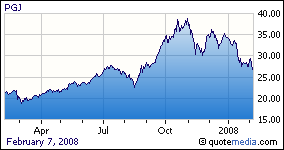 PowerShares Golden Dragon Halter USX China ETF (NYSEARCA:PGJ) debuted in the PowerShares Momentum Tracker that very week, ranked eighth among all funds and first among international funds. Despite the storms and the stock slide, PGJ gained about 2% for the week ending February 1.
PGJ, which tracks the Halter USX China Index, invests in U.S.-listed stocks of companies that derive the majority of their revenues from China. Those two criteria make PGJ unique among China-focused ETFs, which often track indexes of exchanges within China and tend to focus on large-cap stocks. Stocks listed on U.S. exchanges face more rigorous regulatory standards than those listed on Chinese exchanges, so PGJ's method is more likely to weed out firms with shoddy corporate governance or opaque accounting practices. That may prove valuable when investing in a country where an often corrupt government retains a significant stake in many major companies.
Moreover, some stocks of Chinese companies—particularly tech firms—are listed only on U.S. exchanges, which leaves them beyond the scope of most ETFs that invest in Chinese markets. And PGJ recently even owned a few stocks of U.S.-domiciled firms that generate the bulk of their revenues in China.
Perhaps the thing that stands out most about PGJ is its relatively diversified take on the Chinese market. While other China-focused ETFs are heavily weighted toward large-cap stocks, PGJ will invest in stocks with market caps as low as $500 million. About half of PGJ's assets were recently invested in stocks classified as mid-, small- or micro-cap. PGJ also invests broadly across the market's economic sectors. In particular, the ETF carries an exposure to China's technology sector that many similar funds lack. On the other hand, PGJ doesn't tend to bulk up as much in sectors that are experiencing spurts of explosive growth. For example, the fund's relatively small stake in the financials and energy sectors has caused it to lag far behind its peers at times in recent years. Take 2005, when PGJ lost more than 3% while FXI gained more than 13%.
The fund's diversification does not extend to its top ten holdings, which recently composed almost half of its assets. But other China-oriented ETFs are even more concentrated, and most have far fewer holdings than PGJ's 89. The iShares Xinhua 25 Index (NYSEARCA:FXI) is a good example. FXI invests in only 25 stocks. China Mobile (NYSE:CHL) recently occupied the top spot in both funds' portfolios—but the iShares ETF's nearly 12% weighting almost doubled PGJ's 6.18% stake.
PGJ's wide range of market capitalizations, considerable sector diversification and mandate to invest solely in stocks listed on U.S. exchanges are likely to provide a less volatile take on China's market than those of similar ETFs. If 2008 turns out to be the year that China's unprecedented growth moderates, that broader focus could be especially appealing.
That said, PGJ is by no means a stable investment. After its share price hit an all-time high last October 31, PGJ plummeted nearly 20% in less than two weeks. That kind of performance recently earned it a standard deviation of 25.8, which means that it has performed with more than three times the volatility of the S&P 500 during the previous three years.
It may take more time for last week's events to catch up with PGJ, as the scope of the economic fallout from bad weather and slowing global economic growth becomes clear. If the expansion of the Chinese economy slows in 2008, PGJ isn't likely to sustain its soaring returns of the last two years. But if recent market turmoil turns out to be only a small hurdle in the path of the fastest-growing major economy in the world, PGJ may be positioned to regain some of the ground it lost in its precipitous January drop.
If that is the case, PGJ could move even further up the rankings of the PowerShares Momentum Tracker during the coming weeks. But with markets throughout the world experiencing intense volatility, this especially volatile fund could be just as prone to a repeat of last month's dive as it is to a renewed rally.