Most financial stocks haven't recovered from the financial crisis even though the business has returned to solid profits. The growth doesn't exist like it did prior to the crisis but income shouldn't be ignored.
The insurance sector remains one of the most undervalued sectors in the market. Stocks like Hartford Financial (NYSE:HIG), Lincoln National (NYSE:LNC), MetLife (NYSE:MET), and Prudential Financial (NYSE:PRU) trade significantly below book value. The group consistently traded at over 1.5x book value prior to the crisis.
Though all of these companies have variant business lines, the stocks have traded in an incredibly consistent pattern. Some such as Prudential have already significantly exceeded the book value per share from before the crisis yet the stock trades at a paltry 0.59 of book value.
The below YCharts show the steady increase in book value for these financials after the crisis even though the price to book value has rolled over to crisis levels. These stocks have been slow to regain investor confidence, but these pictures tell a different story. Maybe a picture is worth a thousand words after all.
Select Insurance Stocks - Book Value per Share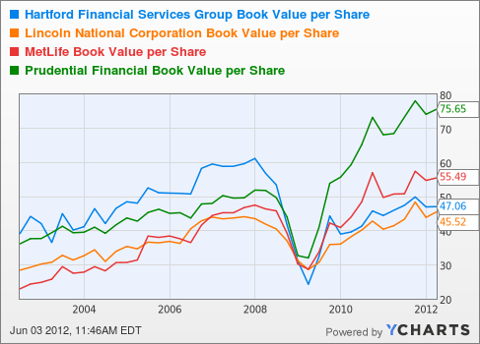 HIG Book Value per Share data by YCharts
Select Insurance Stocks - Price/Book Value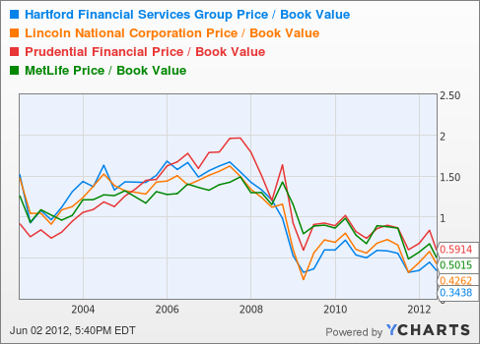 HIG Price / Book Value data by YCharts
Disclosure: I am long HIG, LNC.
Additional disclosure: Please consult your financial advisor before making any investment decisions.