United Therapeutics Corporation (NASDAQ:UTHR) is a biotechnology company focused on the development and commercialization of unique products to address the unmet medical needs of patients with chronic and life-threatening cardiovascular and infectious diseases and cancer. The company's lead product, Remodulin, is approved in the U.S. and various countries around the world for both continuous subcutaneous and continuous intravenous infusion for the treatment of pulmonary arterial hypertension (NYSE:PAH). In addition to prostacyclin analogs like Remodulin, United Therapeutics develops Glycobiological Antiviral Agents for the treatment of infectious diseases, such as Hepatitis C.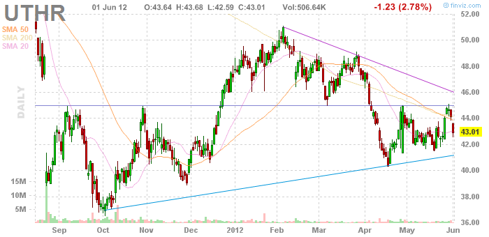 I see at least 4 reasons to invest into United Therapeutics currently
1. Oral Treprostinil NDA accepted by FDA, PDUFA October 2012
On February 21, 2012 United Therapeutics Corporation announced that the U.S. Food and Drug Administration had accepted for review the new drug application (NDA) for treprostinil diethanolamine sustained release tablets (oral treprostinil) for the treatment of pulmonary arterial hypertension. The NDA will be subjected to a standard 10-month review period, with a targeted user fee deadline of October 27, 2012. Oral trepostinil represents approximately $2 billion revenue opportunity for 2016-2026.
2. The CEO has purchased shares at current levels
Dr. Rothblatt founded United Therapeutics in 1996 and has served as Chairman and Chief Executive Officer since its inception. Rothblatt purchased 89,032 shares during December 2011 at $42 share price.
3. Strong financials
Total revenues for the quarter ended March 31, 2012 were $204.2 million, up from $162.5 million for the quarter ended March 31, 2011. Net income for the quarter ended March 31, 2012 was $70.8 million or $1.32 per basic share, compared to $16.4 million or $0.28 per basic share for the same quarter in 2011. Earnings before non-cash charges for the quarter ended March 31, 2012 were $114.4 million, compared to $80.7 million for the quarter ended March 31, 2011.
The company reaffirms its 2012 full-year revenue guidance for its three commercial products (Remodulin, Tyvaso and Adcirca), as the company continues to expect related revenues to be within a range of 5% above or below $875 million for 2012. The company expects to break $1 billion in revenues next year.
Cash, cash equivalents and marketable securities were $745 million at the end of first quarter.
4. Remodulin expands to Asia in 2013/2014
Outside of the United States, Remodulin is approved for treatment of PAH in 36 countries by continuous subcutaneous administration. Remodulin is also approved for treatment of PAH by continuous intravenous administration in 31 countries outside the U.S., including 23 countries in Europe that granted approval in December 2011. Applications for approval of both subcutaneous and intravenous Remodulin are under review in other countries. The company continues to work toward commercializing Remodulin in new territories, including China (application filed in September 2011) and Japan (filing anticipated in late 2012 or early 2013).
Conclusion
I plan to initiate a long position in the company during this month. I believe we could see a share price of $50-$70 after positive FDA decision in October.
Disclosure: I have no positions in any stocks mentioned, but may initiate a long position in UTHR over the next 72 hours.