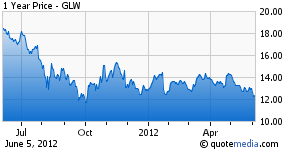 How would you like to pay a PE of less than 8 to get a company with operating margins of 25% and a dominant position as a supplier to Far East manufacturers? That's what you get in Corning (NYSE:GLW).
Full disclosure. Family legend holds that my great-uncle, the late Arnold Harris, was once offered a big job at Corning Glass back in the 1940s. He turned it down for the woman he loved, my great-aunt, and they lived the rest of their lives near her hometown in Rhode Island. (Of course if he hadn't turned down the job he wouldn't have become my great-uncle, but still ... romantic.)
Anyway, Corning is in the news today for making a flexible glass that Apple (NASDAQ:AAPL), Samsung (OTC:SSNLF) and others are looking to put into phones and tablets as early as next year. Their "Gorilla Glass," stiff and scratch-resistant, is the current status, and where Corning goes, it seems, the industry will follow.
Pretty amazing. But have you looked at Corning's financial results lately?
Sales volume are up 25% since 2008, they're taking nearly half that to the gross profit line, and nearly a third of that shows up on the net income line. They could pay their current debt load out of cash, twice over, with nearly $5.8 billion in cash and short-term investments on the books. Yes, it has a factory in Shanghai, but it also has two manufacturing plants in North Carolina.
Corning has been around for 160 years, and has parlayed its basic technology of glass-making into everything from eyeglasses to Pyrex dishes to optical fiber. The new glass, called Willow, is processed at temperatures to 500 degrees and produced in a "roll to roll" process like newsprint, instead of the "sheet to sheet" process we think of when we think of glass-making.
In other words, Corning hasn't just made a better display glass. It has innovated new, lower-cost production techniques that should keep this technology in American hands for years to come.
Yet Corning, with the books of a software outfit, is still available at a PE ratio of just 7.68. Oh, and did I mention it pays a dividend, yielding 2.44%, which is close to what you get on a 30-year U.S. bond. And at $12.32/share it's cheap as chips - it's actually priced at half what it was in 2008.
Ford (NYSE:F) isn't the only big manufacturing name Wall Street hates. What have they got against America? I don't know, but you can take advantage of it.
Disclosure: I have no positions in any stocks mentioned, and no plans to initiate any positions within the next 72 hours. I promise not to pull the trigger right away, but I think this is a good enough idea I might go get some later. You first, though ...