The European debt problems have sent the volatility index higher and the options market has finally started pricing in some risk premium. I think you should consider taking advantage of this additional premium and write some puts on market leaders like Cisco (NASDAQ:CSCO). I recently discussed another option strategy for Apple (NASDAQ:AAPL) titled "Bullish Case for Apple: Time To Get Long On This Market Meltdown."
Assuming your pile of money lying around is not unlimited, you must decide what to invest in and why. Whether it is stocks, bonds, commodities or a Ferrari, you must first analyze the business case for your investments -- otherwise, you'd be called an idiot.
Cisco is attractive for a few reasons:
A huge amount of net cash on its balance sheet -- about $32 billion
A very low forward P/E of around 5.5, once you take the "cash/investment component" out of the equation
Recent sell-off in the stock gives us the opportunity to write naked puts in the area of prior support (see chart below)
The market leader within its industry
The next critical item relates to the timing of your investment and applies equally to long-term investments and short-term trades. Bad timing can decimate a good investment. Just look at how many people bought technology stocks during the bubble -- Microsoft (NASDAQ:MSFT), Cisco, and Intel (NASDAQ:INTC), just to name a few. All these dominate their industry and are great businesses. All had excellent business cases supporting the investments, but the timing for an investment was awful and, as a result, many people took huge losses or are still sitting on unrealized losses eight years later. Timing is so important, and many investors don't have a clue about it.
Let's review the Cisco weekly chart:
Click to enlarge image.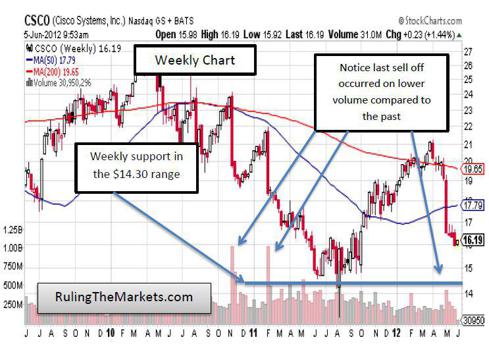 Risks That Must Be Acknowledged
The European debt situation could influence the market at any moment. We have compensated for this risk by selecting a market-leading company that has a very low forward P/E and products customers can't live without.
What Is The trade?
For this example, I used the Chicago Board Options Exchange calculator (found here).
Current price of Cisco = $16.20
Sell to open 10 CSCO Jan. 19, 2013, puts currently priced at $1.70.
Per the CBOE:
Initial margin requirement -- $4,740
Proceeds from sale of put -- $1,700
If Cisco closes above $16.00 on Jan. 19, 2013, the trade nets $1,700 on a $4,740 margin requirement or about 35% in seven months.
Downside risk is to $14.30 exactly at support, as noted above. Additionally, at $14.30 Cisco's forward P/E will be about 12% less -- and I would suggest you review this exact trade again.
Closing Comments
The general market conditions are not right for going long "any old stock" at this moment. So sit tight and pick your buy points and strategies carefully. Keep an eye on the macroeconomic events in Europe (Spain and Italy) and be patient when investing. Remember, investing is for long-term capital appreciation, not the $2 your stock went up yesterday. Our subscribers know we called the market top in April/May and we are watching the European debacle from the sidelines -- thankfully.
Finally, you don't need to put all your money at work on one trade. Pick a range to acquire your full position or a timeline (over weeks) -- do not be in a hurry. I enjoy averaging into positions where I have unrealized gains currently -- averaging up and never averaging down.
Disclosure: I have no positions in any stocks mentioned, but may initiate a long position in CSCO over the next 72 hours.
Disclaimer: This work is based on public filings, public events, interviews, corporate press releases, and what I have learned as financial journalists. It may contain errors and you shouldn't make any investment decision based solely on what you read here. It's your money and your responsibility.