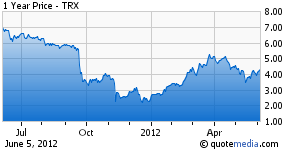 Tanzanian Royalty Exploration (NYSEMKT:TRX), a company I watch closely as it is one of the largest portions of my portfolio, continues to report excellent drill results. Mineweb has the latest report. Here is an excerpt:
Highlight is 12 meters grading 5.22g/t gold from 336 meters in drill hole BMDD158 which include 5 meters grading 7.31g/t gold from 341 meters. This is the best result from deep drilling sampling at Buckreef.
The deep drilling program has provided the first opportunity to sample the deep mineralization at Buckreef and confirmed the width and grade of gold mineralization at depth.
I find this to be a fairly significant news release that confirms what TRX bulls have suspected would be the case. Consistently high grade gold means the marginal cost of extraction is going to be very favorable - which in turn means profit margins are going to look good, probably at today's gold prices, and even more so if the price of gold goes where gold bugs suspect it will (in my opinion, a five digit gold price is looking increasingly likely). The NI 43-101 report on the Buckreef project reports over 340,000 ounces of gold measured and nearly 1.3 million ounces measured and indicated. As noted in TRX's investor presentation, the company hopes to have 3-5 million ounces in listed resources by November of 2014. The firm has over $28 million in cash and short-term securities and under $2 million in debt - so I don't think there are balance sheet risks, a particularly important concern for any company yet to reach significant production and profits.
Based on how things are progressing, I find it increasingly probable the company is going to be a very attractive acquisition target. Not far from TRX's flagship Buckreef project are major players like Barrick Gold Africa (NYSE:ABX) and AngloGold Ashanti (NYSE:AU). Barrick has a market cap over $41 billion, while Anglo is over $14 billion, while TRX is currently at just over $400 million.
Moreover, the Lake Victoria region in Tanzania, where TRX focuses its operations, has long been a rich history of gold production. When an exploration-stage company has a great project going in an established region that is near major producers, I think it makes for a great acquisition target. In recent history, I'm reminded of the bidding war that broke out between Cameco Corporation (NYSE:CCJ) and Rio Tinto (NYSE:RIO) over Hathor in the Athabasca Basin in Canada - a region known for yielding high amounts of uranium. It's too speculative to say such a bidding frenzy will occur for TRX, and indeed I think the Carlin Trend is a better area to focus on for those looking for similar opportunities as it is a more developed ecosystem for gold miners.
But TRX fits the formula, and I think it could be a great acquisition target. TRX's Chief Executive, Jim Sinclair, has stated a willingness to be acquired if the price is right. As such, I consider it a reasonable expectation that an acquisition would give shareholders a very nice gain - particularly for shareholders whose average price is below $4 per share.
As for how and when to enter, for those who are not positioned at all, I think now is a good opportunity to buy a first tranche. A 10% decline to around $3.60 seems very possible, and would also be a good level to add it. My average entry price is $3.64, and I've got enough to satisfy my appetite; as such I'll need a drop to $3.30 before I can consider buying more, preferably $2.30 to get me really interested to the point where I have a tough time saying no.
(Click to enlarge)