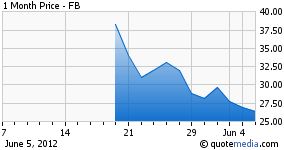 On May 17, Facebook (NASDAQ:FB) sold 421.2 million shares to its underwriters at $38 a piece. In doing so, the company raised $16 billion dollars in an IPO that challenged the current records. Yet despite being equipped with freshly-raised capital, the company's recent woes have continued to overshadow its new found position. Questions have continued to circulate just how exactly the company plans to grow its business. Yet in many ways, Facebook has already painted its business strategy clearly. In its Form S-1 filing, Facebook delivers a broad overview of just exactly how it plans to build out its operation into an even more profitable business:
Expand the global user community. Even though it may seem that Facebook's growth has come close to touching its maximum capacity, the truth is that internationally the company has much further to go. Brazil, Germany, India, Japan, Russia, and South Korea are all countries that the company lists as those with some of the greatest opportunity in store. A clear lack of China on this list indicates that the company may be abandoning the thought of ever penetrating this seemingly closed economy already dominated by powerful players such as SINA Corporation's (NASDAQ:SINA) Weibo and RenRen (NYSE:RENN).
Build great social products to increase engagement. Requiring ongoing innovation, the company expects to increase its ability to design interactive solutions that promote communal engagement. Often hit-or-miss with its user base, protest movements against compulsory upgrades have often been the bane of user satisfaction. With such a vast population who personify their particular space on the web with Facebook, the idea of change is a scary thought. This goal to move people into more interactive environments is one that will need to be approached with utmost care.
Provide users with the most compelling experience. Facebook intends to optimize its user friendliness in such ways as to resonate as the place to keep on coming back to for one's social experience needs. Already presumed as the inherent leader of social networking experience, such endeavors will require ongoing maintenance as the company faces competition from whatever becomes "the next big thing."
Build engaging mobile experiences. Often critiqued as the most important aspect of the company's growth plan, Facebook's need to expand more effectively into the mobile space is often seen as the company's Achilles' heel. With mobile devices setting the stage as the new portal to online communication, the need to establish dominance in this area is critical. With a fresh influx of capital now at their disposal, Facebook's ability to acquire companies making headwinds into this space will be important to watch. One concern for the company to be wary of is the ability of Google's (NASDAQ:GOOG) social network, Google+, to become ever more important in this space. As Google's Android-based smartphones develop into a market-cornering standard, so too will its ability to effectively integrate its own social network alternative.
Enable developers to build great social products using the Facebook platform. As the dominant medium of social interaction, Facebook's ability to leverage this advantage requires controlling those who are creating its application content. If the company can present itself as the most ideal platform to develop apps, it will essentially allow for a mini-Internet to exist within the Internet. Users surfing through Facebook's apps have little reason to venture elsewhere. Yet with an abundance of apps being formed across the mobile space as is, Facebook may be facing an uphill battle in the war to win a user's precious time and focus.
Improve ad products for advertisers and users. Perhaps viewed as the most cautious segment of their growth plan, the need to expand ad products will undoubtedly hinder the enjoyment of user experience. Yet the company does have avenues that may surpass the harm that could be inflicted upon the experience itself. Facebook's "credits," used in it applications for instance, appear almost as a knock-off of the old nickel arcade business model. Yet such an artificial economy does little to hinder the experience of the masses itself.
With a broad plan for growth, Facebook's fate continues to be directed through its ability to provide an enjoyable experience for all of its users. The company's plan lays out several areas of expansion that vary from improvements in the user base numbers, the ad revenues, or even in the quality of satisfaction. Clearly labeled as the leader with a target on its back, the company will inevitably face growing competition ranging from small start-ups to large rivals such as Google. Yet with a strategic deployment of capital gained from its lucrative IPO, Facebook's prospect for future growth appears to be very secure in the present. Yet it appears that the most appropriate question to be asking, however, is whether or not the valuation for such growth remains justified.