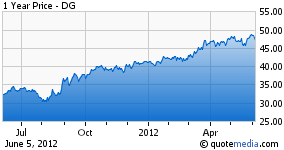 Leading discount retailer Dollar General (NYSE:DG) reported strong fiscal first-quarter results Monday. Total sales improved 13% compared to the first quarter of 2011, and same-store-sales growth was robust, coming in at 6.7%. Given high energy costs in the first quarter, we aren't at all surprised that customers flocked to the discount giant. Earnings per share grew 40% to $0.63, primarily the result of higher sales, some leveraging of existing infrastructure, and much lower interest expense. It appears that even as other discounters, namely Wal-Mart (NYSE:WMT) lower prices, there is room for plenty of competitors in the discount sector.
During the first quarter, the company opened 128 new stores and remodeled 224 existing stores. This is in direct contrast to competing grocery-store chains like SuperValu (NYSE:SVU) that don't have the financial health to update stores and provide better shopping experiences. Further, the company repurchased $300 million of shares during the quarter, though it also announced a secondary offering of 25 million shares to provide existing shareholders with an orderly exit. Given that shares are trading at the high end of our fair value range, we think repurchasing stock might not be the best use of capital. We imagine that the firm's secular tailwinds, oddly enough in a bad economy, have given management confidence in the business' long-term outlook.
Nevertheless, we are confident in management's ability to continue to drive revenue and earnings growth for the rest of the year. The firm increased its bottom-line guidance to $2.68-$2.78 from $2.65-$2.75 based on higher expectations for fiscal year 2012. Dollar General intends to roll out 625 new stores and remodel around 550 stores for the year. The aftershock and change in perception of dollar stores and discounters in general in the wake of the Great Recession should continue to drive growth at the firm. However, we do believe the firm is about fairly valued at its current price, and it only registers a 6 on the Valuentum Buying Index, suggesting investors should wait for a better valuation and improved technicals before establishing a position.
Disclosure: I have no positions in any stocks mentioned, and no plans to initiate any positions within the next 72 hours.