As Philippe Rothschild once said, "Buy when there is blood on the streets." This piece of Wall Street wisdom has proven its value over the decades again and again; yet despite the knowledge that once a proven way to make money on Wall Street is discovered it usually loses its value, as investors pile on to profit from the discrepancy, the concept of buying "when there is blood on the street" never lost its edge. It would be an interesting exercise to analyze why this investment method is so resilient, but this is not really the scope of this article.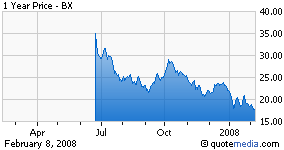 Blackstone Group (NYSE:BX) came public in June 2007 within a public euphoria that started months before the actual date of the IPO and climaxed as the Chinese sovereign fund purchased a close to 10% stake in the company for 3 billion dollars, valuing Blackstone at a whopping 30 billion dollars from the get go.
The Chinese stake is not just a vote of confidence, it is a strategic investment by the People Republic of China, an investment likely made after a thorough study of the company's past, present and most importantly its outlook for its future; many observers today have criticized the Chinese investment in Blackstone as a black hole, with the investment losing 40% of its value in a matter of 8 months, however if there is something we learned about the Chinese in their approach to capitalism, it is patience. The Chinese are extremely methodical and patient in economic matters; the floating of the currency is a case in point. Despite the world crying for years for them to quickly revalue their currency, they continue to do so at their slow pace, a step at a time. The Chinese are ready to scarify short term gains for a long term bonanza, and so should you.
Blackstone is an ideal investment for the Chinese sovereign fund, and for general investors, for the following reasons:
Blackstone has an unparalleled track record, with 30.7% returns per year for their investors over the last 20 years in their corporate private equity fund and 39.7% return per year for the last 16 years on their real estate opportunity fund. It is true that absolute returns for investors after fees would be 22.6% and 31% per year respectively on each. The good news is that the return difference goes to Blackstone unit holders.
Blackstone has a long term investment horizon. Private equity, by nature, is long term orientated. The business of buying companies on the cheap, making them leaner and meaner and then selling them is a time consuming process. It requires patience, talent and strategic thinking. Unlike passive mutual fund managers, private equity requires active and continuous management of acquired companies. The long term nature of private equity offers a cushion for investors, as it help investors focus on the long term and help resist the urge in times of panic to offload assets on the cheap.
Blackstone's 52 company portfolio is very well diversified geographically and industry wise, going all the way from the U.S to China, while passing by Europe and Latin America, with total sales close to a 100 billion dollars. Blackstone's global reach and wide industry focus offers it tremendous flexibility in deploying funds in promising areas and industries, thus providing its investors a level of diversification rarely found with other private equity managers.
Blackstone is expanding. In the last few years Blackstone has entered into various asset management businesses, such as hedge funds, mezzanine funds and publicly-traded closed-end mutual funds). Blackstone is also continuously expanding its Restructuring & M&A Advisory business, with Microsoft (NASDAQ:MSFT) /Yahoo (NASDAQ:YHOO) deal participation being the marquee win for 2008. Additionally, the company publicly announced that it is still looking to expand further into asset management through acquisitions. The current distress in financials present a unique opportunity for Blackstone to acquire quality assets on the cheap.
Asset growth: Blackstone has substantially grown its assets in the last few years; while the stock price has dipped by 40% from June 2007 until today, assets under management have grown from 88.4 billion in May 2007 to over 113 billion (inclusive of GSO assets) or about 28% growth during the last 9 months. The growth in assets is likely to continue as more institutional funds invest in the alternative assets arena. At the end of 2006, U.S intuitional pension assets stood at whopping 14 trillion dollars, with only 4% to 5% invested with alternative asset managers.
Resilient business model: Blackstone is one of a few businesses that can profit from or actually welcomes a market panic or a recession. The reason behind this situation is that private equity is in the business of buying assets on the cheap and selling them dear. For this model to work, a continuous increase in asset prices eventually will yield diminished returns as the opportunity to exit investments at yet higher prices become remote. In 2006/2007, we witnessed a cyclical peak in asset prices caused the availability of cheap credit and ample liquidity; as a result, in 2007, Blackstone lost 90% of its bids to acquire companies, as prices crossed its projected profitability threshold. While today's difficult economic environment may slow down Blackstone exits from prior investments, it does offer Blackstone a unique opportunity to acquire quality assets cheaply. Blackstone's ability to raise funds in this environment to buy such assets offers it a strong edge against the competition.
Strong insider ownership: While many have accused Steve Schwarzman (Blackstone CEO) of cashing at the top, he still owns 23% of the company, while other partners equity participation is locked up to 8 years. The company's top management and company partners' interests are clearly aligned with the interests of the common unit holders.
Strong dividend: As of the time of writing this article, BX units have a 6.8% yield, which present a very attractive yield in a low interest environment. Additionally, management indicated that excess cash will be distributed to unit holders at the end of each fiscal year; thus the potential for a bigger dividend going forward is very likely, especially in light of the fact that management has indicated that substantially all cash earnings will flow to the unit holders over time.
Strong connections: As any accomplished business man knows, connections are essential in the business world, especially so on Wall Street, and connections Blackstone has. The company's co-founders, Stephen Schwarzman and Peter Peterson (former secretary of commerce during the Nixon administration), are widely known and highly influential. As a matter of fact, Blackstone itself mentions its connections as strength the IPO prospectus:
Relationships advantage in raising funds:

We have a long history of raising significant amounts of capital on a global basis across a broad range of asset classes, and we believe that the strength and breadth of our relationships with institutional investors provide us with a competitive advantage in raising capital for our investment funds. During our two decades of asset management activities, we have built long-term relationships with many of the largest institutional investors in the world, most of which invest in a number of different categories of our investment funds.

Relationships advantage in securing deals:

We believe that the strength of our relationships with investment banking firms, other financial intermediaries and leading corporations and corporate executives provides us with competitive advantages in identifying transactions, securing investment opportunities and generating exceptional returns. …....We believe that our strong network of relationships with these firms provide us with a significant advantage in attracting deal flow and securing transactions, including a substantial number of exclusive investment opportunities and opportunities that are made available to only a very limited number of other private equity firms.
Earning Power
Blackstone's earning power is relatively simple to understand. The company generates revenues through the following:
Management fees, generally 2% of assets under management.
Performance fees, generally 20% of gains on invested assets.
Advisory fees for restructurings and M&A.
Based on the above, Blackstone future revenues are a function of assets under management, the performance of its funds, and its ability to attract top talent. Fortunately, Blackstone scores well on all the above. The company assets continue to grow at a strong pace (assets growing close to 30% over the last 9 months). As for performance, the company's historic returns indicate that the company is able to generate above average returns, while for top talent, the company's success, fame and notoriety is giving it a strong edge in attracting quality managers. If we take a long time horizon of 5 years, with the assumption that Blackstone assets will grow at 25% clip through the end of 2012, this will yield a total of 340 billion dollars under management, generating 6.8 billion dollars in management fees alone. In addition, should the company produce a third of its historical returns or only 10%-11% on raised funds in the next 5 years, performance fees will be as high as 7 billion dollars in 2012, while a linear growth at 20% of advisory fees will yield 750 million in revenues in 5 years, meaning that by 2012 the company could theoretically generate the following revenues:
Management fees: 6.8 million
Performance fees: 7 billion.
Advisory fees: 750 million
Total: 14.55 billion in revenues.
If we apply the historical expense ratio of 25% (same as from 2003 to 2007 inclusive of taxes), it would yield a potential net income of $10.91 billion, which would mean a $10.9 EPS per share on fully diluted bases by 2012. If we were to use a 15 P/E, the stock would trade at $163. The reason the company net income is so high is that a big portion of its profits are generated from carried interest, which require no extra expense other then managing the funds themselves; thus, performance fees is pure profit with no extra expenses attached.
One of Blackstone's strongest attributes is its ability to generate above average returns through a small talented management team, thus keeping expenses low in comparison to peers. For example, a Blackstone employees generated ten times the net income of a Goldman Sachs (NYSE:GS) employee, 3.8m vs 380 thousand last year, thus explaining why Blackstone should continue to trade at a premium going forward.
Disclosure: the author has a long position in Blackstone shares.