On May 25th, I published an article recommending that traders short United States Natural Gas Fund (NYSEARCA:UNG) to position for what I saw as negative seasonal and technical patterns, as well as unsupportive fundamental dynamics.
Over the following week, natural gas spot prices fell 9% and UNG fell 12%, breaking below its 50-day moving average and its 61.8% Fibonacci retracement line by Friday, June 1st. Monday UNG was testing back above the 50-day and the 61.8% Fib, in line with consolidation in the broader market (see chart)
(Click charts to enlarge).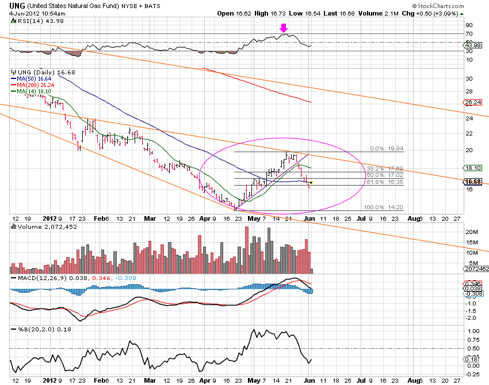 What now? So, was this a short-term, technical correction in a bullish trend that will resume through the summer, as several commenters argued? Or, is it the start of a summer / fall collapse like we saw in 2010 and 2011?
Over the longer term (2013 and forward), I agree with the bullish case put forward by Jeff Gundlach, Mark Anthony and others who argue that electricity production will shift increasingly toward natural gas as coal-fired power plants are retired, natural gas production will retreat from record levels as the number of natural gas-directed rigs declines and the U.S. will begin to export more liquefied natural gas.
However, I do not agree that this adjustment will be completed in 2012 and believe that the risks are skewed toward future downside for natural gas and for UNG over the summer.
Futures Positions - Short Squeeze Produces No Juice: Short-term natural gas bulls point to record high short interest in NYMEX natural gas futures contracts and argue that natural gas will rally significantly as shorts get "squeezed." However, short interest in the contracts is just a mirror image of long interest - the issue is that there are currently near-record amounts of futures contracts outstanding. As the CFTC's Commitment of Traders report shows, open interest - or the number of contracts outstanding - has risen from about 620,000 contracts in March 2009 to over 1.2 million at the end of May 2012. It peaked at over 1.3 million contracts in mid-April (see chart).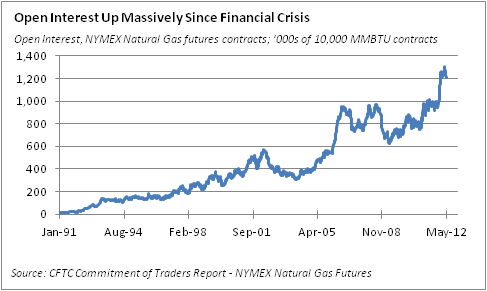 The better COT indicator to look at is the net long and short positions of hedgers and speculators as a percentage of open interest. Hedgers, called "Commercials" in the COT report, are companies that either produce natural gas (eg. Drillers) or use it in their business (eg. Utilities). Speculators are companies - like commodity trading advisors and swap dealers - that make money speculating on futures prices. The general theory is that, when speculators are heavily net short and commercials are heavily net long, the price of the commodity in question should do well, since a net long position by commercials suggests that producers are not hedging as much of their production and consumers are rushing to lock in low future prices. By extension, an unwinding of a huge commercial net long (speculator net short) should lead to or accompany a run-up in prices, as producers hedge production by buying futures during a run-up in prices and consumers feel less compelled to lock in at rising prices.
Right now, commercials (hedgers) are NOT at record net longs and, by extension, speculators are not at record net shorts. Commercial net long (speculator net short) positions reached historic highs in March 2011 as a percentage of open interest - outside of two standard deviations above the average since 1991 - but have come down significantly from those levels and now rest within one standard deviation around the long-term average (see chart).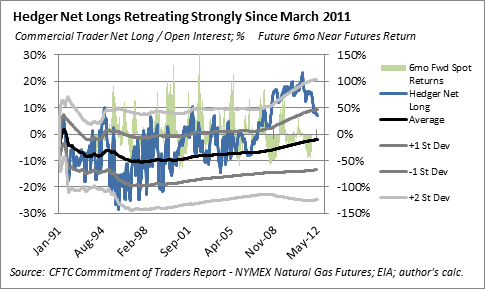 Oddly, far from rising during this period of adjustment, natural gas spot prices have fallen over 40%. So, speculative net shorts (and commercial net longs) have been unwound significantly during a time when natural gas prices have plummeted - not what you would expect from a classic speculator short squeeze.
Rig Counts - Massive Oil Drilling Produces Dry Gas As Well: Short-term bulls also point to Baker Hughes data showing less than 600 rigs currently drilling for natural gas in the United States, the lowest number since the late 1990s. They argue that production will decline this summer because a "baby boom" of natural gas wells drilled in the mid-2000s is increasingly depleted and not enough new wells have been drilled to make up for it. However, while natural gas directed rigs have been in decline since 2008, total rigs of any kind are back to record levels as producers drill like crazy for oil and natural gas liquids (see chart).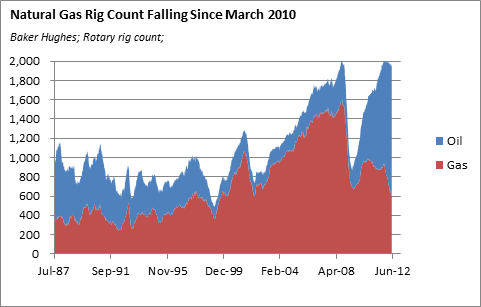 The key point here is that drilling mainly focused on oil and NGL still produces a significant amount of dry gas, which must either be marketed or flared. And, 60% of working rigs are now engaged in horizontal drilling, up from 30% in 2008 (see chart).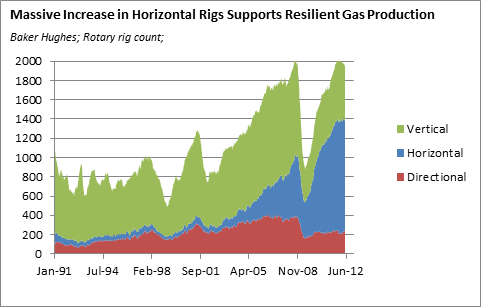 The reason this matters is that horizontal drilling is 3x-4x more productive than vertical drilling. A recent Energy Information Administration study of natural gas production in Pennsylvania found that, while the total number of natural gas wells started in Pennsylvania declined from 2008 to 2011, natural gas production more than quadrupled in the state as the production mix shifted to horizontal drilling.
Latest EIA Report - Cross Currents Continue in Consumption and Production: The latest EIA weekly and monthly natural gas reports continued to highlight the cross-currents in the consumption environment, particularly. In March, the last month for which detailed consumption data are available, residential and commercial demand for natural gas continued to be well below March 2011, while electricity demand was at record levels versus the previous year (see chart).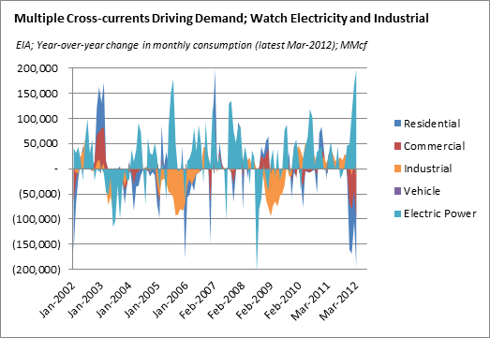 Overall, March data showed production continuing to make new highs while consumption retreated a bit (see chart).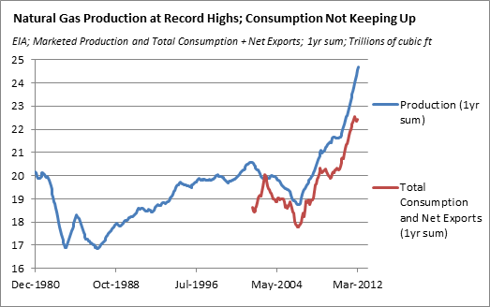 However, March data does not capture the dynamics in April and May, when weekly injections into storage went from averaging about 39BCF above 2011, to averaging 23BCF below 2011. The decline in relative weekly injections suggests a combination of reduced production and increased or stable consumption. If this trend were to continue (eg. Injections 20-30BCF below 2011), peak 2012 storage would come in around 3,800-3,900BCF, as I pointed out in my last article. But, a year-over-year chart of weekly injections suggests more of a volatile, seasonal pattern rather than a stable, trending pattern. Indeed, after averaging 40BCF below 2011 at the beginning of May, injections were only 12BCF below 2011 by the last week of the month, suggesting the potential for an uptrend (see chart).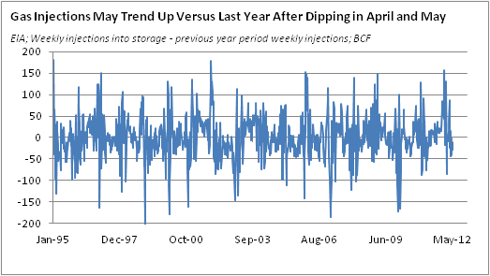 The driver of increased injections may be weakening industrial demand for gas. Industrial demand fell in March versus March 2011, only the second year-over-year decline since 2009. And, according to a Reuters analysis, some of the utilities that switched from coal to natural gas as gas prices plunged may actually be forced to switch some generation back to coal to reduce record stockpiles.
Conclusion - Downside Risks Remain for UNG: A UNG bounce in June is not out of the question. Indeed, in both 2010 and 2011, UNG experienced small bounces in June and July before collapsing in August (see chart).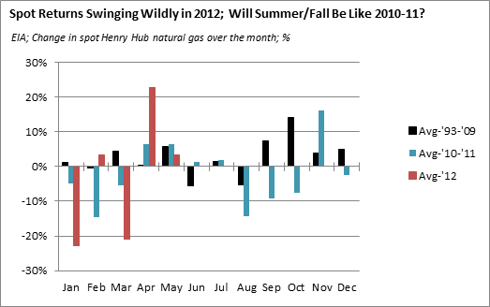 In my opinion, though, the risks for UNG seem skewed to the downside through the end of 2012. For short-term traders who are currently short UNG, I would recommend holding the UNG short, though setting a stop-loss at the 14-day moving average - currently at $18.10 - to guard against a sustained bounce in June / July. If stopped out, I would look to reenter the short at better levels going into August.
For longer-term investors, regulated utilities such as PPL Corporation (NYSE:PPL), which currently trades at a P/E of 9.7x, versus a 5-year average of 16.9x and an industry average of 14.9x, as well as Southern Company (NYSE:SO), Duke Energy (NYSE:DUK) and American Electric Power (NYSE:AEP) are potentially attractive ways to position for low gas prices. These utilities face lower generating costs while still being able to charge higher regulated rates.
Disclosure: I have no positions in any stocks mentioned, and no plans to initiate any positions within the next 72 hours.