The Advisory Board Company (NASDAQ:ABCO) (55, $1 billion) is the type of company one should own in a bear market especially, and now is the time to buy it. I mentioned this one in early September, and it rose subsequently to what seemed like an unsustainable valuation before plunging all the way back this past week after reporting its Q3 and providing guidance. In a bear market, you are supposed to buy stocks showing negative price momentum but are oversold and at support if their fundamentals are ok. ABCO fits the bill.
The Company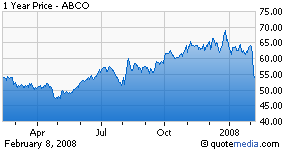 ABCO went public in 2001 after starting out in 1979 with 5 employees, but it is relatively unknown in the investment community. I experienced that personally when I submitted the article to Seeking Alpha – it wasn't even in their database, which delayed publication! It is covered by only a handful of analysts as well. In a nutshell, the company provides subscription-based services to healthcare entities. Specifically, it offers best practices research and other information regarding strategic, operational and management issues primarily to hospitals as well as pharma/biotech, device and insurance companies. Recently the company added academic research institutions as a focus. ABCO has a veritable who's who list of clients (2600 in all) and provides 36 programs. The company publishes its research for its clients, hosts seminars and does some customized consulting. It offers a great value proposition – leading edge information at a much lower price point than a management consultant can provide. ABCO employs over 900 researchers all focused on the Healthcare industry. With all of the changes likely to take place in the coming years, one can assume confidently that the company will continue its very high retention rate. The management team is quite young but has been intact for some time. Directors and management own 4% of the company, though there has been some selling via 10-5b1 plans in the past few months (thanks Insider Scoop). The company spun out Corporate Executive Board Company (EXBD) in 1997.
The Numbers
The company has grown rather consistently on the top-line – 17% annually over the past five years, though growth has moderated slightly recently towards 15%. The company has a debt-free balance sheet and generates significant free cash flow. It has bought back a lot of stock over the past 2 ½ years, reducing shares outstanding by about 10%. Growth comes from adding new clients, adding new programs and cross-selling current members. In other words, we have a company that serves a market in a unique manner (huge barriers to entry) with a recurring revenue model that relies purely on organic growth and uses the cash it spins off to repurchase its stock. Its clients renew at over 90%. One thing to note, however, is that the company's option expense is rather high – about .50 per year and not excluded from analyst estimates on First Call. The analysts project that the company can grow EPS at 15% over the next 3-5 years, which seems quite reasonable. On a one-year forward PE basis, the stock trades at 22.5X. A PEG ratio of 1.5 seems appropriate for a company serving a non-cyclical industry growing organically and producing significant FCF. A year from now, I envision the stock holding its current multiple and being priced off of FY09 expected EPS of approximately 2.90, or 65. While this isn't barn-burner performance, this stock is unlikely to disappoint at a time when many companies will struggle to make earnings.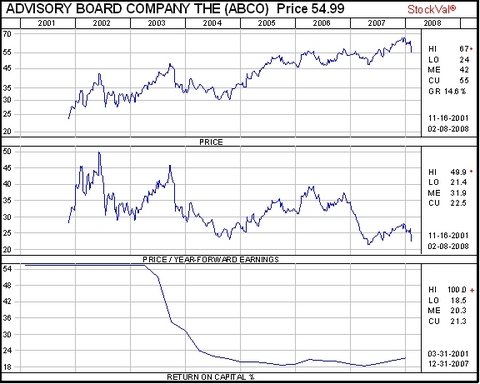 The Stock
In the above chart, the retreat from a valuation that was excessive at year-end is quite evident, with the PE contracting from 28 to 22.5. While the stock has historically had a median PE of 32, I would expect the normal range to be 20-25 going forward due to the maturation of the company. As you can see in the panel below, the stock is oversold. These occurrences have typically provided good entry points to latch on to the recurring revenue model of the company and participate in the long-term growth. Looking at the short-term charts and the distribution of volume over the past year and longer-time frames, I believe that the stock has very strong support at 52.5 and near-term resistance at 60. My best guess is that it will work its way back to the all-time high over the next 12-18 months.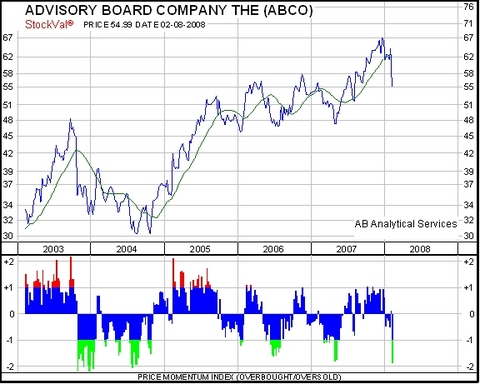 Disclosure: Long ABCO subsequent to the recent decline