Sometimes the best companies to own are boring companies. This is the case with Winthrop Realty (NYSE:FUR) which is a diversified REIT owning multifamily and office properties. To maintain a REIT status, companies must distribute annually 90% of their taxable income as a dividend. This allows Winthrop and other REIT's to offer such attractive dividend yields.
One very bullish sign is the high amount of insider buying by Michael Ashner, Chairman and CEO of Winthrop, over the last 12 months. He and his trust now own 3.72M shares, which is 11.2% of the company. Mr. Ashner has bought over 15 different days in the last 12 months, accumulating over 250,000 shares. In total, there have been 22 buys and 1 sale by insiders during the last 12 months. This is a very bullish sign when company executives are putting their own cash up to buy shares.
Winthrop also offers a plump 6.4% dividend yield, which looks set to grow. On May 30th, Barclays Capital analyst raised FY12 FFO from $1.12 to $1.43 and FY13 from $1.26 to $1.50. This likely means, that Winthrop will be raising its dividend yield during the next year. Winthrop's dividend is quite large compared to their larger counterparts in the REIT industry. Vornado Realty (NYSE:VNO) and Simon Property Group (NYSE:SPG) pay a 3.45% and 2.8% dividend respectively.
Other reasons to like FUR:
The stock trades at under 7x 2012 expected earnings, compared to VNO at 15x and SPG at 18x.
Currently trades more than 20% below tangible book value of $13.05.
Company has plenty of capital to put to work to raise their future earnings and available dividends.
The company has reported a beat on their last 3 quarterly reports, each by at least .05/share.
Institutional investors have been accumulating the stock during the last 3 months, as holders have accumulated more than 700k shares.
Winthrop looks like a prudent long-term investment at current levels. The stock should trade back to $13-15/share over the next year as value is unlocked, and the dividend yield increases due to solid earnings growth. It wouldn't shock me to see the quarterly dividend grow from .65/annually to more than $1.00 within 12 months.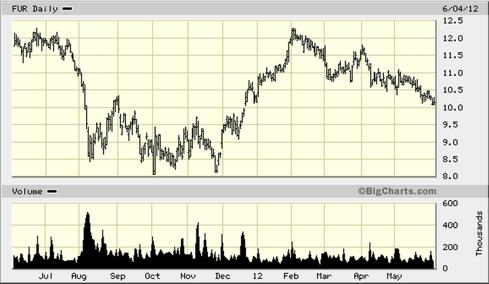 Disclosure: I have no positions in any stocks mentioned, and no plans to initiate any positions within the next 72 hours.