Becton Dickinson and Company (NYSE:BDX) sells medical equipment. The good kind, the kind of stuff that makes me happy to own them for most of my clients. BDX makes things like needles and fittings and all kinds of things that need to be replaced all the time. Read the BDX short version description here.
So why do I have them in my inflation protection group?
Medical Costs are rising faster than inflation: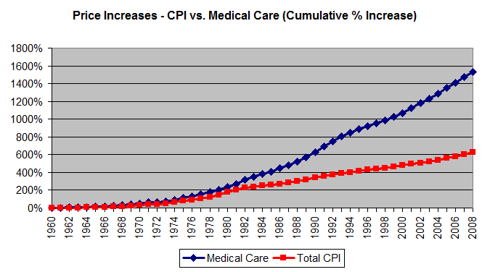 Click to enlarge
Chart from www.chartingtheeconomy.com:
Many areas of consumer prices are not rising, in fact, they are falling. I got a great deal on a very nice TV this year. That tells me that some areas are rising strongly. So this graph does not surprise me, and I bet it does not surprise you either, but it should start you thinking about what sector would work well for inflation protection.
Becton Dickinson is a well run company:
BDX has paid a dividend since 1929, and they have raised the payout for 39 years in a row. This is not unique in the stock market, but it is always a signal of good business, and it does speak volumes about shareholder respect. I like the low payout ratio at 31%, international sales, growth and a strong credit rating. The last part is important to me, because of the increase in long-term debt that BDX has added the last few years. I do feel that medical device companies are well suited to benefit from an aging population in the US, Europe and Japan. Growth in Asia and other countries is bringing better medical services to more people who can afford it.
Let's look at BDX's profits:
Becton Dickinson and Company 10 Year Profit:
Chart from Morningstar

Click to enlarge
Growing profit margins are a good thing. Look at the next set of numbers for BDX.
Becton Dickinson and Company 10 Year Financials:

Click to enlarge
Dividends are up from $0.39 in 2002 to $1.64 in 2011. This is just a reflection of the overall growth. Free cash flow has doubled in the same time frame. As expected, the stock price reflects much of this growth. See below, from Morningstar.
Becton Dickinson and Company 10 Year Stock Price:

Click to enlarge
That's pretty solid. I'm adding BDX to clients' portfolios at about $72.00, based on the lows put in around the middle of December of last year (2011). However, Becton can have some big upside moves, and if these guys moved up to the $91.00 per share range, I would remove some profits if it happened in a short time frame. Selling a core holding, or even part of one, would require that the yield drop significantly as a percentage of price.
These days, it is worth discussing the extreme down side decision making. If BDX moved down sharply below $70 per share, I would simply wait for the technicals to signal an end to the downside momentum and start buying again. Never put all your money in one spot. BDX makes up a maximum of 8% of a full sized portfolio for my clients.
Disclosure: I am long (BDX).