Terra Nitrogen Company, L.P. Reports Fourth Quarter and Full-Year Results; Declares Cash Distribution
Terra Nitrogen's (NYSE:TNH) $4.45 fourth quarter dividend is over double the 3rd quarter distribution and 4.5 times the 4th quarter 2006 distribution. Things appear to be good in the fertilizer space. Taking a look at the earnings release shows the company has been able to raise the price on their primary product by 75%. If corn and other grain prices stay high, TNH should generate some excellent profits for 2008.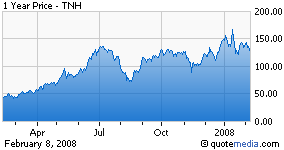 I have been a little skeptical of TNH recently, the strong run-up in price over the last 6 months made me wonder if they could sustain profit growth. So far they have. The possible problem is that this L.P. generates revenue from a single fertilizer plant that has been running at 100% capacity. The only room for increased profitability is increased prices. If or when the agriculture bull market turns south, the health distributions from Terra Nitrogen will be in serious jeopardy.
At this point, however, the company is still on the upward curve of prices and profits. The spring quarter is usually strong for fertilizer sales, so it appears there is at least another quarter of good news coming.