By Matthew Kanterman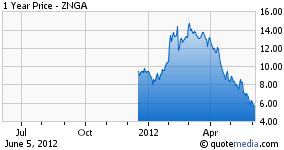 Electronic Arts (NASDAQ:EA) announced yesterday at its press conference at E3 that it is releasing a social version of SimCity, known as SimCity Social, which is set to compete with one of Zynga's (NASDAQ:ZNGA) mainstay games, Farmville, and subsequent games such as Cityville. SimCity Social will be available in about three weeks, says Lucy Bradshaw, Senior VP of Maxis, the unit that is responsible for the Sim series of games.
If successful, this new launch could significantly hurt Zynga, as it shows that the life-span of the first mover advantage into social games may quickly be going. SimCity is a brand that has a strong group of followers, and the migration of a large number of Farmville users to SimCity Social would be a death blow to Zynga. Last year, the Sims Social already attracted more monthly active users than any Zynga game, and SimCity Social may even overtake that. The question becomes, how many users will Zynga lose and how does it make up for this?
Zynga's product offering has consistently grown, but questions continue to be raised over the viability of its business model. Zynga is largely dependent on Facebook (NASDAQ:FB) and mobile applications through Apple's (NASDAQ:AAPL) App Store, Google's (NASDAQ:GOOG) Android Marketplace, Microsoft's (NASDAQ:MSFT) Marketplace, and Research In Motion's (RIMM) Blackberry App World. With Facebook's growth stalling and now increasing competition from brand-name games moving into the social networks, this could be the nail in the coffin for Zynga.
Zynga does have a good portfolio of popular games, however social games become saturated markets very quickly. Apps become yesterday's news, and Zynga is a victim to this trend. Zynga's fate will be decided in the next few years, as they fight growing competition and slowing growth. Zynga's shares closed down about 5% yesterday and are currently down 40.38% year-to-date.
ZNGA is trading at $5.61 today, while EA is trading at $13.09.
Disclosure: I have no positions in any stocks mentioned, and no plans to initiate any positions within the next 72 hours.
Disclaimer: Neither Benzinga nor its staff recommend that you buy, sell, or hold any security. We do not offer investment advice, personalized or otherwise. Benzinga recommends that you conduct your own due diligence and consult a certified financial professional for personalized advice about your financial situation.