Chindex International Inc. (NYSE: CHDX), a US-based healthcare company that provides healthcare services and supplies medical capital equipment, instrumentation and products to the Chinese marketplace, reported third quarter 2007 earnings Friday morning. Company shares rose near their all-time high due to strong results on both the top and bottom lines.Revenue for the quarter ended December 31, 2007 was US$36.0 million, a 19% increase same quarter in 2006. Net income from continuing operations for the quarter ended December 31, 2007 was US$3.9 million, compared to last years results of US$0.7 million. Earnings per basic share on continuing operations of US$0.50 represented a 400% increase over the quarter ended December 31, 2006.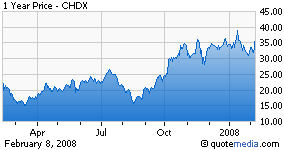 Revenue for the nine months ended December 31, 2007 was US$95.4 million, a 17% increase over revenue of US$81.2 million in the nine months ended December 31, 2006. Net income from continuing operations for the nine months ended December 31, 2007 was US$6.3 million, with earnings per basic share on continuing operations of US$0.85. This compared favorably to results of US$2.3 million and US$0.34 respectively for the same period last year."Our continuing top and bottom line performance on a consolidated basis this quarter was again led by an increase in the profitability of our Healthcare Services division," said Roberta Lipson, Chindex CEO.
This was fueled by continued growth in inpatient and outpatient results in both the Beijing and Shanghai markets. Our development program for new United Family Healthcare facilities in Guangzhou and Beijing is entering a new phase. Since our last quarterly report, we have completed a series of equity and debt financings that will provide us with $105 million in total financing. We are currently implementing our market entry program in Guangzhou with the commencement of construction of an outpatient clinic center, and moving forward the initial phases of our main hospital facility development program. We were also pleased to announce our active participation in programs related the Olympics to be held in Beijing this summer.

The Medical Products division reported profitable results for the quarter due to strong performance in imaging and surgical product categories. The market issues which have been impacting us over the past several quarters have not abated completely, however the pent up demand for imported medical devices which has been accumulating over the past two years is driving sales throughout the country now. Our outlook for the Medical Products division continues to be optimistic. We believe the conditions are aligned for continuing good performance in this division in the future.
Chindex's results represent a solid beat on both top and bottom lines. Prior to the report, analysts were estimating third quarter EPS of US$0.26. FY 2008 revenues and EPS were previously estimated to hit US$100 million and US$0.71 respectively. It is notable too that the company's medical products division, which has run consistently in the red for several quarters, showed a profit in the third quarter. While adverse winter weather may have a short term impact on the fourth quarter, it is clear that the company will have a banner year.
Investors have shown their appreciation for Chindex's results. Shares bottomed out at US$3.10 in October 2005 during the difficult FY 2006 restructuring and have risen steadily since then. Trading near its all-time high of US$38.98, the company has outperformed both the Chinese and US market indexes over the past several months. This was particularly true Friday, with shares rising over 10% by midday to a recent US$37.15.Chindex continues to execute on what could be considered a difficult business model. China's healthcare services sector continues to be highly regulated, and has not always been receptive to foreign-owned operators. The company has experienced significant delays in the buildout of its healthcare facilities, but construction plans appear to be moving forward. Following a restructuring in FY 2006 that allowed the company to focus on its healthcare services and medical products divisions, the company has shown progressively improved operating results. Chindex appears to be favorably positioned to benefit from positive market conditions developing in China over the next few quarters, including the upcoming Beijing Olympics. In addition the Chinese government has committed to significantly increasing funding for healthcare services, which should provide a tailwind for the medical products division as public hospitals upgrade their facilities.
Disclosure: none