Telecom Corporation of New Zealand (NZT) - "Telecom" - resides near the top of the list of high yield international stocks trading as ADRs in the U.S. However, it is a little difficult to get a handle on the actual yield, with different financial websites showing yields ranging from 6.8% to over 16%. Corporate restructuring and a change in the dividend payment schedule have confused the computer systems tracking the Telecom results.
Before getting to the dividend information, Telecom significantly restructured itself at the end of 2011, spinning off the land line infrastructure portion of the company into a separately trading company called Chorus. New Zealand laws allow equal access to any company which wants to offer telephone service. Now Telecom New Zealand is just another customer of Chorus paying lease rates for line access to its customers. The divestiture will significantly reduce Telecom's capital spending going forward. The company offers the full range of telecom services including telephone, mobile phone and data and broadband Internet.
To go along with the new, slimmer Telecom New Zealand, the dividend schedule has been changed from quarterly to semi-annual. A NZD 9 cents dividend was declared for the six months ending on 12/31/11 and paid in March. For the year earlier half-year, 7 cents was paid in two quarterly installments. Each ADR is for 5 common shares, so U.S. investors received about 37 cents per ADS. At a 37 cent semi-annual dividend rate and a current ADR price of $9.56, Telecom New Zealand has a dividend yield of 7.7% for U.S. investors.
New Zealand imposes a 15% withholding tax for U.S. investors. However, the New Zealand tax code allows companies to pay an imputed tax credit to offset corporate taxes paid. It appears the tax credit paid by Telecom to ADS shareholders should offset the 15% withholding, allowing U.S. investors to receive the full dividend rate. (Any NZT investors reading this please make a comment if the analysis on dividend withholding is incorrect.)
Telecom seems poised to slowly grow net income over the next several years and the company policy is to pay out 90% of the net as dividends. The dividend rate should stay steady to slightly increasing over the next few years. However, a falling New Zealand Dollar against the U.S. Dollar would reduce the dividend amount and ADR share price for U.S. investors.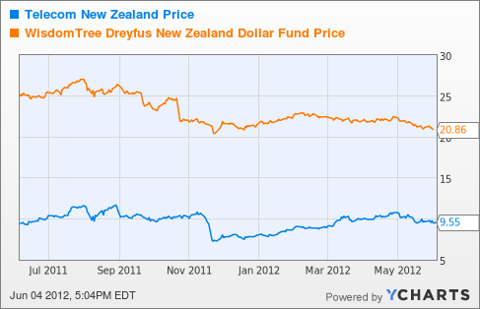 Disclosure: I have no positions in any stocks mentioned, and no plans to initiate any positions within the next 72 hours.