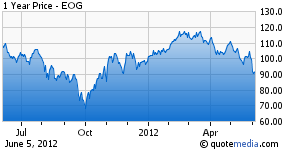 EOG Resources (NYSE:EOG) is one of the more reliable and promising assets in the E&P industry for investors to add to their portfolio. This should be viewed as a long-term investment with a high potential for growth and an uptick in value once the oil and natural gas prices begin to normalize. This is one of the more expensive independent mid-size producers but it is also one of the best positioned to assume a leadership role in the industry in comparison to its competitors like Chesapeake (NYSE:CHK) and Kodiak (NYSE:KOG). Its prudent cost management tactics and measured operations focused on long term prosperity in the future are the foremost priorities management uses to continuously improve EOG's position amongst its chief competition.
The current stock price for EOG is around $93, while the beta is typically above one, sometimes closer to 1.5. This is one of the main reasons EOG Resources should be used as a long-term investment in light of the premium stock price in comparison to competition like Marathon Oil (NYSE:MRO). The current market cap is over $25 billion while the enterprise value is above $31 billion and the PEG ratio is around .50. The beta, PEG ratio and adequate room between the enterprise value and market cap suggest that EOG is poised to grow and increase its stock price through 2013. The current stock price is only 13% below the high in its 52 week range of $119.97 down to $66.81. It is a favorable time to invest on shares at the current stock price as it's currently below the 50 day and 200 day moving averages of over $104 and $105, respectively.
The current ratio is above one and the quick ratio is only slightly below one. Both gross margin and institutional ownership exceed 85 percent while the price to sales ratio is currently above two. However, sales growth has increased by over 47 percent since last year and by 1.21 percent since the last quarter. Returns on equity and operating margin have increased in the past three quarters while net margin is slightly below 20 percent. The current price is 23 times earnings which is less than the industry average and is projected to drop to 15 looking forward into next year. Net profit margin is comparable to the industry average while return on equity is above the industry average. EOG's growth rates have consistently surpassed the industry average as well.
EOG is currently the 4th largest U.S. independent natural gas and oil producer according to its market value. First quarter profits went up by over 100 percent after EOG increased liquid production rates by over 50 percent. Liquid production accounts for 85 percent of the increase in revenue and LNG has been a focal point in this latest achievement. CEO and Chairman Mark Papa expects to surpass 200,000 barrels per day by the end of 2012. Many analysts and pundits attribute EOG's success in goodwill and public perception to its transparency and forthrightness exhibited by the CEO and his willingness to conduct interviews and communicate with shareholders. Wells Fargo recently upgraded EOG's projections to outperform for 2012.
EOG mainly operates in the United States, Canada and the U.K. as well. EOG also has interests in Argentina and Trinidad also. EOG has had an average growth exceeding 66 percent during the past four quarter's year-over-year with double digit growth each quarter. EOG benefits from stakes it has in large acres of viable land in the United States in regions like Wyoming and Texas as well as areas in Argentina like the Vaca Muerta Shale. EOG has over 240,000 acres in Wyoming, several horizontal wells in Texas and it is the largest Bakken oil producer in North Dakota. EOG was able to increase total volume by over 11 percent accounting for a 49 percent increase in crude oil and condensate production as well as a 44 percent increase in LNG production year-over-year. Total revenues increased by almost 48 percent year-over-year while 85 percent of the well revenue was from liquids in the first quarter.
EOG was one of the first producers to move its focus to oil and liquids as it anticipated and reacted quickly to decreasing profits from the natural gas market. This fact, its management and its investment into frac sand are some of the key differentiating factors from competitors in the industry. EOG's ability to be a pioneer and a leader in innovation is one of the reasons it's one of the more valuable E&P's in the industry. EOG is able to save $500 million per well by producing its own frac sand for the lifetime of the wells. EOG expects to have over 600 wells operating by the end of 2012. This is just the cusp of the potential savings as demand will surely push the price up for frac sand as this method of drilling becomes more common place. Producing frac sand in-house helps EOG save capital for reinvestment into the business and more land acquisitions. The Eagle Ford shale development in Texas should yield around 3,000 barrels per day for EOG. It expects to dig over another 3,000 wells on top of the 375 that are currently drilled on the land. EOG will most likely contract to lease some of the land to hold its stake and increase revenue while also selling other land assets to build capital in order to focus on long-term growth as well. EOG expects to increase total production by seven percent in 2012 while 92 percent of its revenue currently derives from the United States.
EOG will continue to focus on oil and liquid production while waiting for the natural as market to normalize in the future. It expects oil demand to increase by 1 million barrels per day in the near future. EOG continues to hedge its interests in order to adapt and stay positioned to capitalize on the ever changing market dynamics in the E&P industry. Investors should also note that EOG plans to continue to steadily increase dividends as it has throughout the past five years. EOG is one of the most promising long-term investments in the E&P industry along with Cabot Oil & Gas (NYSE:COG).
Disclosure: I have no positions in any stocks mentioned, and no plans to initiate any positions within the next 72 hours.