Fomento Economico Mexicano (ADR ticker FMX), or Femsa, is the largest beer and soft drink producer in Mexico and the second-largest Coca-Cola (NYSE:KO) bottler worldwide. Profits for 2008 are expected to reach $830 million or $2.33/share on revenues of $14.5 billion. But shares are down to $38.70 since 2007 when higher commodity costs and a beer price war with its largest Mexican rival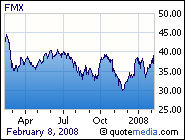 Modelo hurt Femsa's outlook. Emerging market plays are also feared in this volatile market and Mexico could suffer from a U.S. downturn.
But Barron's notes Femsa is trading at 17 times 2008 EPS, above other brewers, but below Femsa's growth rate of 20% (a higher rate than Anheuser-Busch's (NYSE:BUD).) Femsa is increasingly capturing market share in the U.S.-- currently just 8% of sales-- and Mexico, whose economy is expected to grow 3-4% this year. Global exports should continue to grow by 10% a year on price hikes and new Coke products. Annual 2007 profits are expected to have risen by 25%. Some bulls expect a multiple of 20 times EPS in 2008 or $2.40/share, meaning a $50 share, while others see a sum-of-parts total worth of $64/share. Earnings in '09 should be $2.75/share. Barron's considers Femsa an eventual takeover target, and even Bill Gates owns a stake. Drink up!