Noble International (NOBL) provides laser welded blanks and tubes for the automotive industry. Its products are used by OEMs or their suppliers in automobile body components such as doors, fenders, body side panels, and pillars. NOBL provides prototype designs, engineering, laser welding, and other cutting services.
Investment Thesis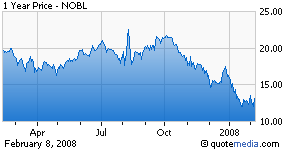 NOBL is an attractive long investment because the fundamental story has changed yet the market is still pricing the stock based on the old business model. NOBL has transformed itself over the past 18 months with acquisitions that have diversified the company away from reliance on the Big 3 auto companies and North American auto volumes. Over the next few years, NOBL should experience impressive growth yet the stock trades at a forward PE of 8x. NOBL has international exposure to attractive and high growth markets in China and India.
The stock trades at an attractive valuation (8x fwd PE, 4.9x EV/fwd EBITDA) and is yielding an amazing 26.5% on free cash flow basis for FY 2008. Investors have been incorrectly valuing the company based on historical trailing earnings and have ignored the true earnings power of the transformed NOBL going forward. NOBL is also looking to expand upon their core competencies and enter other industries such as aerospace and office furniture which will further drive growth.
Solid business fundamentals, ability to grow without overall vehicle volume growth
NOBL is only covered by two analysts and I believe that investors do not widely understand NOBL's story after their recent transformation. NOBL has a solid business and a leading market share. In addition to leading market share, the company enjoys several competitive advantages such being the only global laser welder, broader product line, and patented propriety processes. NOBL has been down with the entire US auto sector in light of recent weak North American auto demand. The opportunity in the stock is that NOBL can still grow in a flat North American demand environment, a fact that the market is currently not valuing. NOBL has two avenues for growth, Asia (China, India, and very likely Thailand and two others in the near future) and increasing the number of laser welded applications per car in North America. Asia represents a huge opportunity as the most populated continent with low penetration; total auto volume grew +15% last year in these markets.
For North America, newly produced vehicles in the US currently contain an average of six applications per vehicle. The USADC conducted a study that concluded that there are 21 potential applications for laser welding. This gives NOBL room to grow even if the overall volume "pie" is flat or declining. Laser welding offers an attractive value proposition to the OEMs because it lowers costs by decreasing waste and scrap, offers lighter weight which improves fuel efficiency, and provides greater strength which improves safety. Evidence of OEMs ability/desire to increase the number of applications can be seen in NOBL's current deal negotiations with an Asian OEM that will use 12 applications right off the bat. NOBL assumes no commodity risk, they buy the steel from the OEM and then sell it back to them with a mark-up for the welding.
Valuation is attractive, strong FCF %
I think the stock is worth $25 given the public multiples and a discounted cash flow analysis, all of which assume conservative growth. Management guided 2008 for EPS of $1.45-1.55 and FC per share of $2.50-3.00. The difference in EPS and FCF is due to elevated levels of depreciation from the acquisitions. I believe the "true" earnings power of NOBL is about $2.32 in 2008. Applying a 12x PE (peer group forward PE is 12.3x), the stock could be worth $27.80. As such I do not think the market is accurately valuing the true earnings power of the transformed NOBL.
International exposure to high growth markets, diversifying revenue
NOBL has international exposure to high growth markets through various joint-ventures and is not as reliant on the Big 3 as they have been historically. The announced JVs are essentially supply agreements with steel producers that ensure access to steel. NOBL has two plants in China, one in India, Australia, and Canada, three in Mexico, nine in Europe, and the rest in the US. Asia represents a huge opportunity as the most populated continent with low auto penetration, total auto volume grew +15% last year in these markets.
Although North America has been weak of late, it is worth noting that NA only makes up 24% of worldwide vehicle production with Europe at 31% and Asia at 22%. NOBL is currently in negotiations to sign up another OEM in Thailand and two other Asian countries (won't name which countries for competitive reasons). NOBL's transformation has enabled them to diversify their customer concentration. There is still risk of future production cuts at the Big 3 but Chrysler (DCX) has already done this for 2008 and management's guidance takes that production cut into consideration. Keep in mind that these Big 3 sales are not entirely US-based sales, as of Q3 US sales were 37% and Europe sales were 45%.Supporting the thesis that NOBL does not need NA auto volume growth in order to grow is that for the past three quarters, NOBL has been able offset negative y/y NA vehicle growth and still produce organic growth. Organic growth was 12% in Q2 vs. -4.4% for NA vehicle production.
NOBL's laser welding applicable to other industries
NOBL has the opportunity to further diversify revenues by expanding into other industries because their core competencies can be transferred easily to these industries and offer additional growth avenues. NOBL is currently studying entry into aerospace, power sports (motorcycles, atvs, etc.), construction, and office furniture. I do not expect meaningful sales from any of these in the near term but it does offer NOBL future growth opportunities.
Possible Arcelor Mittal Acquisition
As part of the TBA acquisition announced on August 31, Arcelor Mittal now owns 9.375m shares (roughly 40% of the company) at a price of $18 per share. Mittal's large position makes an acquisition likely at some point although I do not expect this to happen in the near term.
Risks
Further OEM auto production cuts. This would hurt the stock more from a perception point of view than I think it would financially given that NOBL has been able to organically grow against the recent NA auto volume weakness. Regardless a production cut would likely hurt the stock. DCX already announced a cut but Ford (NYSE:F) and GM (NYSE:GM) could still follow. I can't handicap the likelihood of this but I am comfortable owning the stock now given all of the growth opportunities, the valuation, and the diversification away from the Big 3.
Integration risk persists. Most of NOBL's integration issues appear to be behind them but when a company acquires as rapidly as NOBL did there could still be some issues. I see these issues as transitory and impacting the earnings power of NOBL.
Labor strikes at the OEMs. Again, hard to handicap, but with the most recent strike behind us, I do not see this as a huge threat.
Limited liquidity
Disclosure: Author has a long position in NOBL