The year was 1989. The Berlin Wall was being dismantled, Roseanne Barr was the queen of primetime TV, and the unholy "Straight Up" by Paula Abdul was unleashed upon the world; our eardrums would never be the same again. That same year, home furnishings giant Pier 1 Imports (NYSE:PIR) was at its zenith, having opened up its 550th retail store. Starting out with one store in 1962 in San Mateo, California, Pier 1 had taken its candlesticks, rattan furniture and faux-imported goods to every major market in America during the 80's at a relentless pace that was unheard of for a stand-alone home furnishings chain up until that point.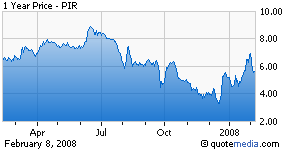 Fast forward 20 years and it's not hard to see that the once fresh and exciting concept has grown as stale as the wax fruit that fills up its many bowl-on-table store displays. To keep up with the changing tastes of the modern consumer, Pier 1 has largely abandoned its wicker-laden aesthetic and attempted to skew country or traditional. This desperate decision came at the end of its longtime CEO's turbulent tenure 3 years ago and has not increased traffic or sales for the chain. Facing new, heavily-discounted competition from Target (NYSE:TGT) and Wal-Mart (NYSE:WMT), with their rapidly expanding furniture offerings, and a consumer shift away from "exotic" or "imported" looking décor and toward a 9/11-inspired embrace of American Classic looks, Pier 1 was basically damned if it changed and damned if it didn't.
The interesting thing about Pier 1's decent is that it began during the real estate and remodeling binge of 2003 to 2005. At a time when Ethan Allen and Herman Miller couldn't make enough furniture to keep up, Pier 1 was already missing expectations and crushing its investor base. How bad was it? Warren Buffett himself lost more than half of his firm Berkshire Hathaway's (NYSE:BRK.A) investment in the company, having filed its stock purchases in the low 20's and its sales in the high single digits. Things had gotten real ugly, real fast. What was Pier 1's response to its newfound out-of-favor situation? Hail Mary ad campaigns featuring such cultural icons as Thom Felicia (of Queer Eye for the Straight Guy) and, I kid you not, America's favorite Hindenburg, actress Kirstie Alley. The jump from starring in three, count 'em, three talking baby and dog movies, to hocking furniture for a Fortune 500 company must have triggered the subsequent loss of her mind, although she appears to be doing much better now. This is more than we can say for the Pier.
But is the housing slump and burgeoning consumer recession only playing havoc with Pier 1? Let's take a look at how its competitors have fared. Bombay has finally gone the way of the dodo and filed for Chapter 11 bankruptcy protection. I was surprised to hear that Bombay Kids didn't work out…I thought every tyke wanted a brass umbrella stand shaped like an elephant and a carved teak chess board night table. Oh well. Pottery Barn seems to be perennially on course to fill every nook and cranny of our collective living room with tchotchkes. Restoration Hardware (RSTO) has just, in a single stroke, lost its entire cool factor by being swallowed up by Eddie Lampert's Evil Empire of Sears and K-Mart (NASDAQ:SHLD) (Gross and Grosser).
So does Pier 1 have a shot at surviving and, dare I say, thriving in the near future? I say yes. For starters, the company is a few years deep into the painful process of right-sizing the ship. Underperforming stores have been closed, debt has been paid down and the chain's once mammoth inventory has been discounted out the door and off its books to make way for the new merchandise. There has also been an on-again, off again flirtation with a Scandinavian furniture magnate who has been frequently cited as a potential strategic buyer of the chain, either to convert stores to his own concept or to diversify his retail holdings. There isn't much LBO cash lying around and most of the activists and Wall Street analysts have walked away from the story, so expectations are non-existent. With interest rates coming down to the point where refinancing makes sense and housing prices probably at least stabilizing later this year, we could be looking at the exact scenario in which Pier 1 finally gets it together and makes its long-overdue resurgence.
I can safely say that New York's home improvement and design culture wouldn't miss a beat if The Pier disappeared tomorrow. But with its storied, 45 year history of bringing international tastes and touches to the masses, and its 1000-plus retail locations, wouldn't it be much more interesting to see a happy ending, not to mention the resurrection of the Papasan Chair? I certainly think it would.
Disclosure: none