Sierra Pacific Resources
(SRP) is expected to report Q4 earnings Monday with a conference call scheduled for 10:00 a.m. ET.
Guidance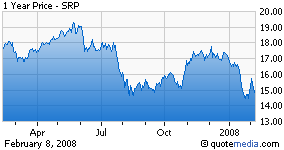 Analysts are looking for Sierra Pacific to post Q4 EPS of 10c on revenue of $787.53M. The consensus range is 7c to 20c for EPS, and revenue range of $767.01M to $798.10M, according to First Call. The company's stock was downgraded by three major brokerage firms in November.
Analyst Views
Citigroup
downgraded it to Hold from Buy, based on valuation, and
Credit Suisse
downgraded it to Neutral from Outperform.
Deutsche Bank
downgraded Sierra Pacific's shares to Hold from Buy, citing valuation and uncertainty over the company's Integrated Resource Plan investment program.
Goldman Sachs
gave Sierra Pacific a Buy rating, noting the stock is valued at 8.9 times expected earnings per share in 2012, compared with a valuation of its peers of 11 times earnings.