"A cigar butt found on the street that has only one puff left in it may not offer much of a smoke, but the bargain purchase will make that puff all profit." -- Warren Buffett
Regional banks have begun to get discounted amid fears of fallout from the European credit crisis. However, banks in certain localized communities may be relatively immune from the impacts.
North Dakota currently boasts the lowest unemployment rate in the United States. It also is projected to have the fastest growth in Gross State Product, beating New York by .8%.
Most of this growth is attributable to the Bakken Shale boom. The Bakken Shale is an oil shale play in parts of North Dakota, Montana, and Canada that may have up to 200 billion barrels of oil resources. It is a matter of huge debate as to how much of that oil is recoverable with today's technology and oil prices -- estimates have ranged from ~3 billion to 30 billion. Harold Hamm, CEO of Continental Resources -- the biggest producer of Bakken oil -- estimates the total recoverable reserves at 24 billion barrels, which would make the Bakken the largest oil field in the United States.
Click to enlarge all images.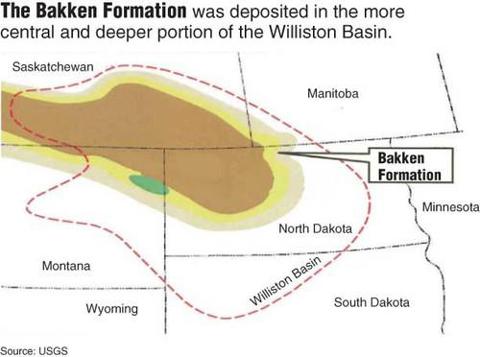 This boom has created lots of associated jobs, and more and more people are moving into the state. The influx of people should benefit mortgage bankers as demand for housing increases, and businesses and construction will likely boom from the influx of oil money to the region.
One bank poised to profit
BNCCorp (OTCQX:BNCC) is a small regional bank that is traded on the pink sheets. It has two divisions: a community bank with 14 locations in North Dakota, Arizona, and Minnesota, and a mortgage banking division with 14 locations in North Dakota, Arizona, Minnesota, Illinois, Kansas, Nebraska, and Missouri. However, BNCCorp's key geographic area is North Dakota, and management is focusing on this area for the business's growth.
And it's growing fast. Its income for the first quarter of 2012 was up 174% over the first quarter of 2011. Most of that growth came from mortgage banking revenue, which was up 106%. This mortgage banking growth will probably continue, as interest rates are remaining low for the near future. In addition, the rig count in North Dakota just hit a record high last week, suggesting that the number of oil service personnel relocating to the area is continuing to increase.
Risks
1. Leverage
BNCCorp has been achieving its growth with pretty high leverage. Though its Tier 1 Capital to Risk-Weighted Assets ratio of 14.53% is well above the requirement of 4%, the regulatory requirements are usually set far below what investors should ideally look for in a bank, especially in the environment of uncertainty that we are experiencing now.
In Beating the Street, Peter Lynch touted the Equity-to-Assets ratio as the most important measure of a bank's capitalization. In Lynch's opinion, a bank must have an Equity-to-Assets ratio above 6 to be considered above average, and preferably the ratio would be above 7.5.
If we consider only tangible common equity, the Equity-to-Assets ratio of BNCCorp is a measly 3.3.
2. Dilution with low-priced stock
Management has taken steps to increase BNCCorp's equity, securing a private placement of 9.2 million shares at $1.85 a piece. After the placement, the Equity-to-Assets ratio will be 5.6, which is still slightly below average, by Peter Lynch's metric.
This placement has wreaked havoc on the share price. The market price of BNCC was $6.73/share before the private placement was announced on Feb. 13. Because the private placement was so much lower than the market price, the stock dropped swiftly, and has been hovering in the low $2 range.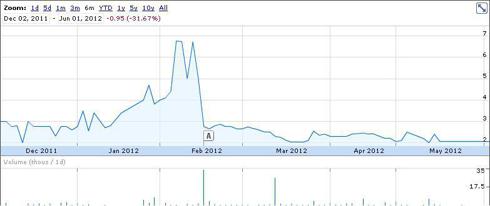 Source: Google Finance.
The price will likely decrease to $1.85 as the date of the private placement approaches. Unfortunately, we still don't know exactly when that will be -- the deal is awaiting approval by the Federal Reserve. Management estimates that the deal will take place before the end of the third quarter.
3. Asset quality
Peter Lynch has suggested that most investors steer clear of banks with large amounts of construction or commercial real estate loans, because these are typically higher risk than mortgage loans. However, loans for construction and commercial real estate make up about 61% of its loan portfolio. BNCCorp probably prefers to invest in these types of loans because they carry almost a full percentage point higher interest rates than the rest of its interest-earning assets, boosting its net income.
In its mortgage banking business, BNCCorp sells off its mortgage loans and has been investing the proceeds in mortgage backed securities. If we include mortgage backed securities in the loan portfolio for the sake of calculating a ratio, the percentage of construction and commercial real estate loans drops to 35%. This is still much higher than the 5%-10% that Peter Lynch recommends.
There are a few positives about BNCCorp's asset quality. Peter Lynch recommends that the ratio of nonperforming assets (loans with unpaid payments) to total assets should be less than 2%. BNCCorp passes this metric with flying colors, as its ratio is .7%.
BNCCorp also lowered its real estate owned (foreclosed properties) from $10.1 million to $9.4 million during the first quarter. It is no wonder -- North Dakota has one of the lowest foreclosure rates in the country.
Valuation
Using the consolidated tangible common equity figure quoted in the last quarterly report, the book value would come out to $6.40/common share. However, since the private placement is priced below the book value, the equity will be diluted. By management's estimate, the pro-forma book value after the private placement would be $3.08/common share.
The last transaction price was $2.05/share, giving a Price-to-Book value of .67. If the company were to return to a Price-to-Book Value of 1, it would imply a 50% upside.
The Price-to-Earnings ratio implies an upside greater than 50%. Even after the dilution of the 9.2 million shares, the trailing 12-month P/E ratio of the bank would come out to 3.30. Even if the company did not grow earnings, the bank's price would have to go up 430% to match the average P/E for its competitors -- regional banks in the Midwest.
Legal Battles and Potential Windfall
The bank recorded a huge $26 million loss in 2010 because some assets it was carrying on its books could not be recovered. The bank had invested in mortgages sold and serviced by an Arizona mortgage lender, American Service Specialists (NYSEMKT:AMS), but AMS turned out to be a fraud. Arizona revoked AMS' mortgage broker's license in 2010 because it did not have a state-registered agent, and the company evaporated overnight, disconnecting its phones and discontinuing its website.
BNCCorp was insured for $15 million of the losses, but now it's in a legal battle with its insurers to recover those funds. If the company can recover the sum -- which is more than two times the current market cap -- it could result in big profits for the investor. In the meantime, however, BNCCorp is incurring legal expenses that are impacting the net income.
Conclusion
The company has above-average leverage and owns commercial real estate and construction loans, which can be risky if the North Dakota economy tanks. Such a tank in the North Dakota economy may occur if oil prices drop significantly. A Tudor Pickering Study stated that the return of Bakken wells would be above 10% as long as oil prices were above $50/bbl; given a current WTI price of $84.71, I don't believe that prices will drop lower than $50 anytime soon.
Offsetting the risks, the book value of the company after dilution is 50% higher than the market cap, and the P/E ratio of its competitors is 430% higher than for BNCCorp, providing a large margin for error.
BNCCorp may not be the best stock to purchase over the long haul, given its higher than average risk. But the stock price has been punished far too harshly, and it's currently priced so low that one puff on this stock could give an investor massive profits. I estimate the stock will rise significantly after the private placement takes place.
Disclosure: I am long OTCQX:BNCC.