By Joey Vazquez, Oxen Group Contributor
We continue our search for the most attractive companies to buy and sell right now. The market started out June with the worst day of 2012, and that is causing a lot of anxiety for the market. Therefore today, I strive to find attractive companies with strong or weak fundamentals and technicals that will outperform or underperform the markets. Should you buy or sell these companies?
Starbucks Corp. (NASDAQ:SBUX):
(Click to enlarge)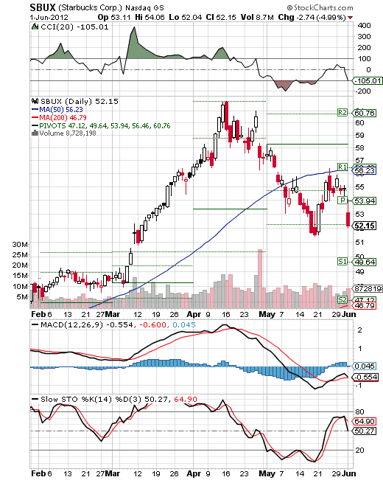 Starbucks has not been able to recover after its first quarter earnings report. While SBUX did guide in-line for earnings it wasn't enough to satisfy investors after they spent the previous six months pressing the stock higher and higher. The stock has been weak since. SBUX was able to rally for a couple of days but quickly turned back around after hitting its 50 day MA. SBUX broke down through its pivot point and its stochastics are already pointing down. Its CCI indicator just entered the -100 area implying the start of a new bearish trend and its MACD is about to submerge beneath its signal line. I would definitely look to go short SBUX and possibly long Dunkin` Brands Group Inc. (NASDAQ:DNKN) to pair if able to retake the 50 day MA. DNKN offers a better value right now if the economy is weakening since the brand has cheaper items than SBUX.
Trade Idea: I would look to go short SBUX and long DNKN.
Costco Wholesale Corp. (NASDAQ:COST):
(Click to enlarge)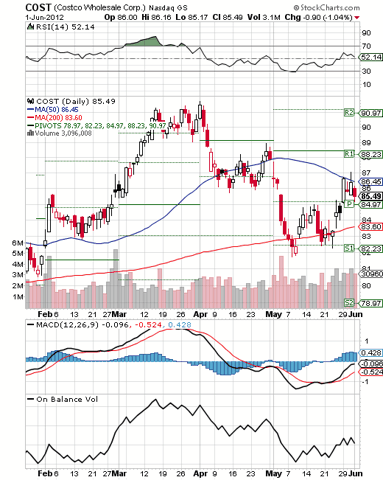 Costco Wholesale beat its latest earnings report on the 24th of May and they look to be on the breakout right now. COST was down 1% on Friday and was not able to break its 50 day MA, but that was on a day were most of the indices were down over 2%. The company's earnings looked very solid, and that report is giving the company a nice bottom. I would look for COST to bounce off its pivot point and continue its uptrend and break its 50 day MA. Its MACD is still going strong and its RSI is only at 52, leaving plenty of room for buying. Additionally, most discount retailers, such as Wal-Mart Stores Inc. (NYSE:WMT), Dollar General Corp. (NYSE:DG) and Family Dollar Stores Inc. (NYSE:FDO) outperform the market in bearish times. COST will definitely be able to fit into this group.
Trade Idea: I would look to go long COST.
Silver Standard Resources Inc. (NASDAQ:SSRI):
(Click to enlarge)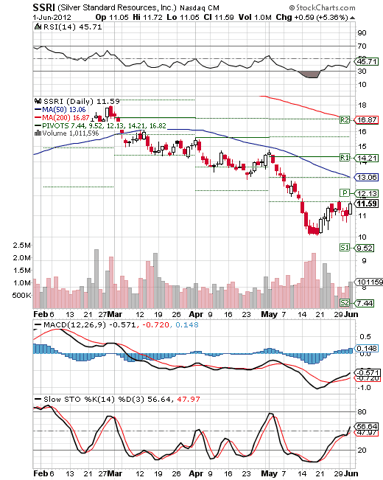 Silver Standard Resources did not perform well for most of May as silver prices struggled but has spent the last couple of weeks really trying to change that trend. Silver and gold are becoming more attractive once again as we enter the bearish market, and SSRI will continue a nice trend upwards if silver continues to gain premium for its safe haven value. SSRI is currently trying to break the resistance from last month's pivot point. If this resistance can be broken SSRI will continue higher. Its MACD is indicating it will break it since it's headed higher along with its stochastics. SSRI has a really low RSI at 45 leaving a lot of room for buying.
Trade Idea: I would look to go long SSRI.
Spirit Airlines (NASDAQ:SAVE):
(Click to enlarge)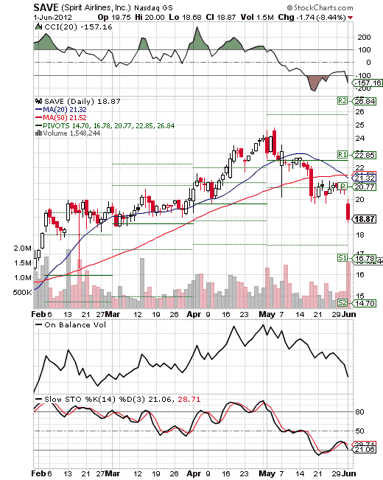 Most airline companies have not been treated well by the markets as of recent and Spirit Airlines is no different. The drop in oil price has helped airlines somewhat, but airlines falter a lot during tough market times as they have less solid investors in them and are often more of trading vehicles. The company will definitely continue to suffer if we go through a bearish market. A mini death cross has just formed on its chart giving us a very bearish indicator. Its stochastics have turned down and its CCI indicator just plunged into the -100 area giving us another bearish indicator. Its OBV indicator is heading south, letting us know that the positive momentum is leaving the stock in a hurry.
Trade Idea: I would look to go short SAVE.
Disclosure: I have no positions in any stocks mentioned, and no plans to initiate any positions within the next 72 hours.