I have done quite a lot of Hawk Associates bashing and here is more. Hawk was the IR firm for China 3C Group (CHCG-OLD) until recently and now there is direct evidence that a hedge fund dropped the company's shares because of poor communications.
According to Guerilla Partner's Peter Siris (who was an investor), during a conference call with the company last August, a question was posed about comp-stores sales. Not only did the question stump CHCG's management, other basic questions also went answered. The resulting sell off by Guerilla Partner brought the stock price from $6 to around $4, and it has not recovered since. Siris was unequivocal about why they sold: bad communications "killed it".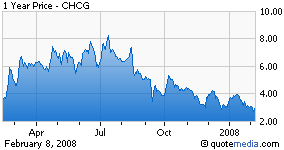 So now that we have ICR's Bill Zima instead of Hawk Associates, I'm hopeful that things will be better. But since the IR switch which happened on 1/15, we haven't heard a squeak from management. What is happening? Is there good news on the horizon? And are we too late to lure back the likes of Guerilla Partners? I think the longer this state of silence goes on, the worse it is for generating investor interest. Which is sad, for even Siris acknowledged that CHCG is a company with "lots of cash, no debt, (and) strong earnings". Just goes to show the importance of good IR.
My Position: Long.