If the Bear Gets Hungry:
Now that the major stock market indexes are near or at the official "correction" level, that is about 10% below a recent market high - it may be time to get serious about some portfolio hedging. May was a brutal month for the market as the Dow 30 gave up all of its year to date 6%-plus gains. June (so far) doesn't look too healthy either. Also, the 200 day moving average is in danger of being breached. If the S&P 500 closes below that 200 DMA level for several days, that could trigger even more selling. That 200 DMA is a "line in the sand" to many institutional money managers. Typically the market will try and rally back when that level is reached. The market does not just go straight down or straight up. Expect counter trend rallies. If things deteriorate further here are four Exchange Traded products that could help ease the pain.
These products are mostly basic unleveraged inverse and/or short funds but as such should only be used for short term hedges. They require strict monitoring and discretion. Use stops and have a plan. As always with any inverse or short fund, timing is everything.
Popular Plain Vanilla Hedges:
1.) ProShares Short Dow 30 ETF (NYSEARCA:DOG) This fund is unleveraged and seeks to return the daily inverse (opposite) of the Dow Jones Industrial Average. It has an expense ratio of 0.95% and a healthy average trading volume of around 1.8 million shares according to ProShares. For May it delivered 6.5% versus the conventional Dow 30 ETF (NYSEARCA:DIA) loss of about -6.3%. Nothing fancy here, just an inverse hedge for the old familiar DJIA.
2.) ProShares Short S&P 500 ETF (NYSEARCA:SH) Likewise this fund from ProShares seeks unleveraged inverse (opposite) daily returns of the S&P 500. It sports a slightly less expense ratio of 0.90% than the DOG. Volume for this ETF is a very healthy 5.9 million shares according to ProShares. For May this inverse ETF delivered a stout 6.8% return versus the conventional S&P 500 Spyder (NYSEARCA:SPY) loss of -6.6%. Again, nothing fancy here but it offers a straightforward very liquid inverse hedge if things go awry any further in this weak market.
Active and Innovative Hedges:
3.) AdvisorShares Active Bear ETF (NYSEARCA:HDGE) If you want more of a "hands on" professionally managed short fund hedge for your portfolio, this fund may fit the bill. This actively managed ETF from AdvisorShares has the portfolio sub-advised by Ranger Alternative Management, L.P. They use a fundamental, bottom up analysis to find compelling short sale candidates in the domestic U.S. stock market. They will also seek special situation, news driven, or earnings catalysts for troubled companies for other lucrative short sale candidates. This fund has been successful in attracting assets, garnering about 283 million. It does have a very pricey expense ratio of 3.29%. Recent performance in last months (May 2012) swoon was a very solid 14%. It's only a little over a year old so it "bears" watching.
4.) UBS ETRACS Fisher-Gartman Risk Off ETN (NYSEARCA:OFF) This offbeat ETN has some intriguing qualities. I've recently discussed its inverse bullish "Risk On" brother, (NYSEARCA:ONN). This bearish ETN sibling is based on the same index called The Fisher-Gartman Risk Index. The index takes Long positions in "risk off" instruments and short positions in "Risk On" instruments. These positions include weightings of Energy (-48%), Equities (-46%), Currencies (+16 & -28%), Sovereign Bonds (+34%), Agriculture (-18%) and Metals (-10%). Total Short weighting is (-150%) and Longs are at (+50%). What I like about this ETN is its inherent diversification among all those different asset classes. The index is rebalanced quarterly and has an expense fee of 1.15% per year. To me having the convenience of taking a "risk off" position in one instrument makes it an attractive fund. Performance for May was a very nice 19.8%, helped out with falling commodities, rising Dollar, falling Euro, etc. This ETN's varied position evidently translates into lots of diversification and alpha for a bearish environment. One drawback is that it's a lightly traded fund averaging only about 25,000 shares traded daily for the last three months.
(click to enlarge)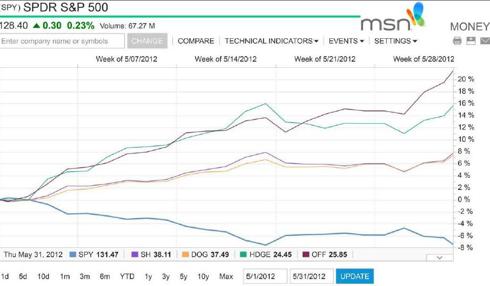 Click to enlarge
Disclosure: I have no positions in any stocks mentioned, but may initiate a long position in OFF over the next 72 hours.