Despite the recent sell-off in the major market indices, shares of upscale grocery store operator Whole Food Market Inc (NASDAQ:WFM) are up nearly 25% so far in 2012. This move is noteworthy as other, cheaper, higher yielding, and more traditional grocery stocks have been under significant pressure so far in 2012.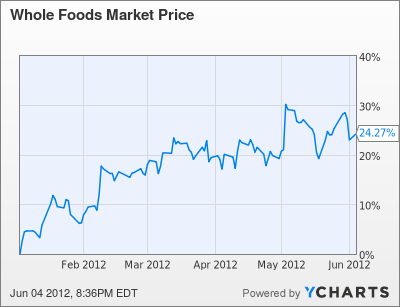 As you can see in the chart above, WFM has held up very well so far in 2012 and shares are just 6% off their all-time high reached in early May. Comparably, as shown by the chart below, other more traditional grocery stocks including Kroger (NYSE:KR), Safeway (NYSE:SWY), and Supervalu (NYSE:SVU) have not held up well at all.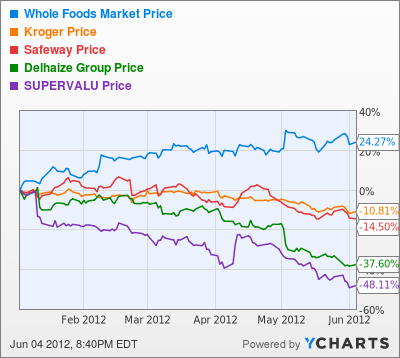 The divergence is surprising for a few reasons.
Whole Foods Is More Expensive
Whole Foods is often considered the highest-end chain grocery store in America and the prices are also generally the highest, especially when it comes to proteins. The company has often been referred to as "Whole Paycheck." While the company has done a lot to reduce prices of late, in general, Whole Foods is still considered far more expensive than a traditional grocery store. For this reason, it is surprising that Whole Foods has held up so well despite the weak economy. One might expect that shoppers would switch from Whole Foods to other grocery stores in an effort to save money. Certainly, consumers have shown an increasing willingness to shop at dollar stores such as Dollar General (NYSE:DG), Family Dollar (NYSE:FDO), and Dollar Tree (NASDAQ:DLTR) in an effort to save money.
Recent Earnings Report
Whole Foods recently reported Q2 earnings that beat expectations. The company earned 64 cents per share vs. expectations of 59 cents per share. Also, Whole Foods raised its outlook for the rest of the year including predictions of 15% sales growth. Simply put, no other major grocery chain has growth of anything close to that. The strength of this report is one of the reasons WFM has held up so well.
Dividend
Another reason why it is surprising that WFM has held up so well is its lack of a dividend. WFM currently yields just 0.65%. Due to record low interest rates, dividend yields have become an important reason to buy stocks despite a weakening global economy. Comparably, KR yields 2.1%, SWY yields 3.8%, DEG yields 6.09%, and SVU yields 7.95%. However, it should be noted that the dividend on SVU is far from safe as the company continues to struggle.
Valuation
WFM is also the most expensive of the grocery stocks as the company has a higher growth rate than other companies. However, typically during market sell-offs, richly valued companies get hit harder than companies that do not trade at extreme valuations.
Forward PE Ratios
WFM: 30.5
KR: 8.7
SWY: 8.3
Conclusion
The resilience of WFM has been extremely impressive given the company's non-defensive properties. Strong performance in a weak market is usually a signal that the stock wants to go higher. However, if the broad indices continue to decline I believe WFM will move lower as the stock becomes a source of funds for managers who need to raise cash. That being said, any decline in WFM should be used as a buying opportunity for long-term investors as the company is clearly gaining the upper hand on its competitors. If WFM can outperform in a weak market environment such as the current one, then what kind of market environment would KR, SWY, and SVU outperform in?
Disclosure: I have no positions in any stocks mentioned, and no plans to initiate any positions within the next 72 hours.