Shares of solar-panel developer SunPower (NASDAQ:SPWR) took a 60% hit in January amid a wide-spread solar selloff as investors fretted recessionary fears and the potential expiration of a buyers' tax credit. Barron's says the selloff is overdone; shares could double amid soaring earnings.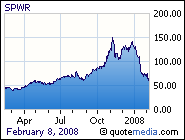 SunPower ($66.37) still trades at a seemingly rich 32x 2008 consensus earnings. That multiple seems a lot more reasonable, though, in light of SPWR's estimated 40-50% growth through at least 2010. Retail buyers, who spend an average $40,000/purchase, are unlikely to be swayed by the soon-to-disappear $2,000 solar tax credit. A corporate 30% deductible, if shelved, may have a bigger impact -- a factor the company plans to compensate for by moving corporate sales overseas. Meanwhile, pundits say there's a 85-90% likelihood the credit gets extended.
Another concern is the potential of dropping panel prices as polysilicon producers catch up with demand. SPWR says it has factored in a price-drop, and that higher margins due to increased production will compensate for the revenue drop. If SunPower hits 2009 forecasts rises to 40x earnings, shares will go for more than $130.