Barron's says the January 2008 tech downturn is in no way similar to the crash of the dot-com bubble. Demand for network bandwidth continues to grow, and despite potential corporate penny pinching, few companies can afford to cut back on their internet strategies. Tech Trader Eric Savitz outlines the bullish case on three tech stocks: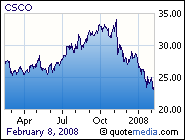 Cisco (NASDAQ:CSCO) -- CEO John Chambers once again spooked investors by noting orders were down sharply in January, and warning FQ3 revenue will come up short (Cisco Earnings Call Transcript). Shares fell 7% in extended trading, but were up $0.30 by day's-end. Cisco is sticking to its long-term estimates of 12-17% growth. Down 33% from its highs, shares are a solid long-term investment at 15x 2008 earnings. The company also holds $22B in cash and investments.
Akamai (NASDAQ:AKAM) -- a content-delivery network [CDN] leader, demand for CDNs continues to boom as internet TV becomes a reality, no doubt a factor in AKAM's recent blowout quarter. CEO Paul Sagan doubts an economic downturn would much affect the company (Akamai Technologies Earnings Call Transcript). With estimated 40% growth and trading at 20x 2008 earnings, shares look cheap.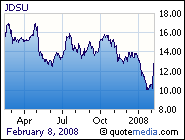 JDS-Uniphase (JDSU) -- signs the company's turnaround is finally taking hold include: 1) Hitting GAAP profitability for the first time without needing asset sales. 2) Four quarters in a row of EPS and cash-flow growth. 3) The most recent quarter was perhaps the first time JDSU has seen simultaneous improvement in both gross margin and revenue across all its businesses (JDS Uniphase Earnings Call Transcript). At 20x 2008 earnings, shares aren't cheap, but it's "an interesting speculative play on bandwidth growth."