Back in January 29th I wrote the article "Copper Will Soon Be Hit Hard". The basic premise was that China, and more specifically residential construction in China, was a huge consumer of copper. How this sector did would define how copper would do, and we had reason to believe that this sector would do badly in the short term. Hence, we had reason to believe copper would do badly in the short term as well. I also followed that article with others, pounding on the same idea.
Unsurprisingly, such came to pass. Since then the performance of the copper-related shares named in that article - Freeport McMoran (NYSE:FCX), Southern Copper Corporation (NYSE:SCCO), Hudbay Minerals (NYSE:HBM), iPath Pure Beta Copper ETN (CUPM), United States Copper Index Fund (NYSEARCA:CPER), First Trust ISE Global Copper Index Fund (NASDAQ:CU) and Global X Copper Miners ETF (NYSEARCA:COPX) - has been dismal, as the following table shows.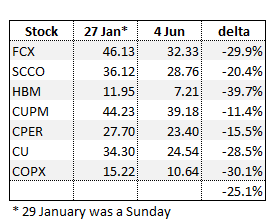 The broad declines, with an average of -25.1% and declines ranging from -11.4% to -39.7%, with not a single positive case, show that the thesis was entirely right. Copper itself showed a drop from $8522/ton to $7370/ton, or -13.5% in little more than 4 months.
So where does the sector stand now?
The basic thesis behind the original prognostication remains valid, we're still in the early stages of a significant contraction in China's residential construction. So at this point, it would seem that there remains downside, even if the basic thesis is now much more widespread than it was back when I first put it forward.
At this point, the only factor I see that could help move these stocks up would be action by monetary authorities, namely the FED or BCE providing further monetary stimulation (quantitative easing or further LTRO operations); or the Bank of China moving interest rates substantially lower. It makes little sense to speculate when such action might happen, but it might make sense to react positively if it does happen.
A small aside, the action in copper inventories (LME can be checked here; Shanghai, here) has had little predictive power lately so I kept away from delving too much into it, preferring to take into account the demand side of the equation. There are also rumors of large copper stocks held in warehouses in China, and even by farmers, etc.
China
China continues to be the central factor, accounting for a bit over 40% of the world's copper consumption. Unfortunately in China most of the contraction in demand from the residential construction market should still be ahead of us. As a positive, auto making in China seems to have stabilized (auto production was falling in the tail end of 2011 and beginning of 2012), and there's a good likelihood that the sector will now expand further.
Conclusion
In spite of the deep punishment this sector has already suffered, there is still a lack of catalysts for a turn around. The most near term catalyst one can hope for is heavy monetary action by the most powerful central banks, which would probably be enough to drive these shares higher. Up until that action, the best one can do is to stay away while monitoring copper prices.
Disclosure: I have no positions in any stocks mentioned, and no plans to initiate any positions within the next 72 hours.