Sina (NASDAQ:SINA) recently attended Deutsche Bank's "dbAccess Asia Conference". The company met with institutional investors to primarily talk about its Weibo strategy.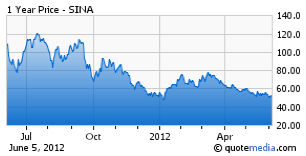 Key highlights of the conference are:
B2B offers more attractive opportunities for Weibo monetization than B2C
Enterprise accounts will be critical for the success of B2B Weibo monetization
Display advertising will continue to experience weaker growth due to macro uncertainty
The B2B model is more attractive than the B2C model because targeted advertising will likely generate a majority of Weibo's revenue in the future. For the B2C model, the primary objective is to generate user stickiness through social apps and casual gaming so enterprises could have a large user base to utilize the targeted ad platform while the secondary objective of monetization is of lesser importance.
Attracting enterprise accounts will be critical to Weibo's future growth. In particular, SME should find Weibo a more cost-effective and practical way to establish an online presence and an advertising platform. Weibo's value propositions to the SMEs are:
Large user base and high traffic
Lower cost compared to maintaining independent website
Unlimited exposure due to social network effect of user interaction
A "Trojan Horse" into mobile advertising as there are more Weibo mobile users in China than any other social networking platforms
However, I would like to note that creating a sound ecosystem will be critical for Weibo's growth because enterprise users will likely switch to a competing social ad platform such as Renren (NYSE:RENN) and Tencent if Weibo users' engagement begins to decline due to lack of attractive apps or new features.
Finally, management indicated that Sina's display advertising will continue to experience weakness due to macro uncertainty. Because so many investors are focused on Weibo, many have forgotten that display ads were Sina's bread and butter since its founding. As display ads face headwinds, investor expectation for Sina to monetize Weibo is high and lack of a meaningful revenue contribution from Weibo could set investors up for a crude awakening.
Disclosure: I have no positions in any stocks mentioned, and no plans to initiate any positions within the next 72 hours.