Shares of gold miner Jaguar Mining Inc (NYSE:JAG) surged 22% on Tuesday without any major news.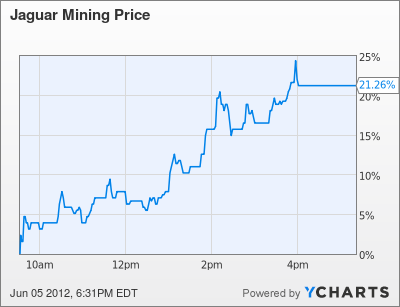 Playing Catch-Up
As shown by the chart below, the gold mining sector has been moving higher over the past month while JAG has not. Tuesday's move is likely just a response to the rally in the sector. JAG is down 30% over the past month while the gold miners ETF, Market Vectors Gold Miners Index ETF (NYSEARCA:GDX), is up 8.84% and speculative miner Nova Gold (NYSEMKT:NG) is up nearly 15%.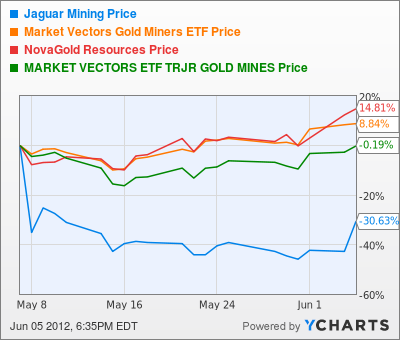 Failed Merger
When looking at JAG it is important to realize what has happened over the past year. In November 2011, China's Shandong Gold Group offered to buy JAG for $1 billion or $9.30 per share in cash. However, the board rejected the offer. Later, another company would offer to buy JAG for a price between $8.20 and $9.45. However, the offer would later be withdrawn. JAG shares have plunged in recent following the failure of the company to sell itself and a steady decline in gold prices.
Comprehensive Restructure
Following JAG's decision to remain independent, the company announced a comprehensive turnaround plan. Some details of the plan include placing the company's Paciência operations on temporary care and maintenance for mine development catch-up, productivity improvements at the Turmalina and Caeté operation, and a 40% reduction in overhead costs at the company. JAG expects that full implementation of the plan will take at least 12 months.
Debt
JAG does have a significant debt load of $259 million compared to equity of just $130 million. For this reason, investments in JAG must be considered speculations as the debt load could prove difficult to maintain if the company fails to execute its turnaround plan.
Short Interest
Short interest in JAG currently stands at 12.6 million shares or 15.13%. The high short interest means that if any positive news comes out on JAG, shares could move sharply higher on a short squeeze. It is likely that at least part of Tuesday's surge was short covering.
My Take
Because of the past interest in the company, I believe the assets certainly have real value. For this reason, I believe JAG is a good speculative play on a rally in gold. Investors need to remember that JAG is a speculation, not an investment because of the company's financial state. While the company is yet to prove it can capitalize on these assets. It remains possible that, despite the restructuring plan, JAG gets another takeover offer.
Disclosure: I have no positions in any stocks mentioned, and no plans to initiate any positions within the next 72 hours.