With a softening North American market as a backdrop, Nabors Industries (NYSE:NBR) reported 4th quarter 2007 earnings that were off compared to a year ago. The lower results were generally not a surprise as the company had duly telegraphed the slowdown in its U.S. and Canadian operations.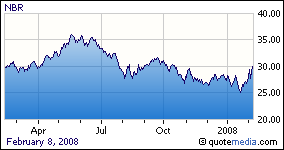 While its domestic fortunes are no doubt due to a number of factors, we suspect a portion of Nabors' home-based weakness reflects phantoms from the past up-cycle when a number of its customers were, let's just say, less than fully satisfied as torrid growth seemed to cloud the company's ability to provide the assets and services they expected. As a result, the company finished last in EnergyPoint's survey covering providers of drilling and oilfield services during this heady period.
So, where does Nabors go from here? Management continues to tout is prospects for growth internationally, where the supply and demand balance for drilling rigs and services, at least for the time being, is more favorable. Although based on a smaller number of evaluations than its domestic ratings, EnergyPoint's data do suggest that overseas customers likely hold a much more favorable view of the company. In fact, Nabors' international ratings were some of the strongest registered in our entire survey. Assuming the company is able to avoid the bad habits that weighed down its marks domestically, its considerable resources and capabilities could allow it to successfully ride a new wave of growth overseas.
Certainly, we'll be watching to see what type of equipment is made available to overseas customers. Our data suggest domestic customers were not always pleased with the iron the company provided in the past -- notwithstanding that many were fortunate to have a rig at all during the strongest points in the cycle. While it appears the company will be sending at least some newbuilds (i.e., more reliable and better performing equipment) overseas, the company will also be challenged to staff and operate these assets adequately. Since ineffective or inexperienced crews tend to go over no better with international clients than domestic ones, the hardest part of Nabors' international rebirth might have as much to do with its ability to manage the people side of its business as the equipment side.
Disclosure: None