Against the company's wishes, the SEC forced Warren Buffett's Berkshire Hathaway (NYSE:BRK.B) to disclose its 3.2% or 1.66 million share stake in Lee Enterprises Inc (NYSE:LEE). Following the news, shares of LEE spiked 31% in after hours trading. Prior to this move, shares of LEE were already up 58% so far in 2012.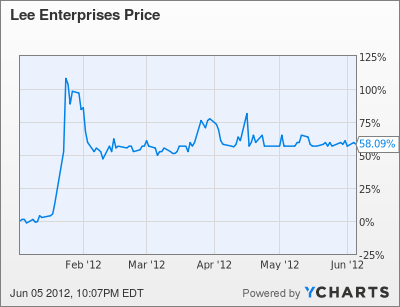 Business Summary
From Yahoo Finance:
Lee Enterprises, Incorporated provides local news, information, and advertising services primarily in midsize and small markets in the United States. The company publishes 52 daily and 39 Sunday newspapers, 300 weekly newspapers, and niche publications in 23 states; and provides retail, classified, digital, and national advertising services. It also provides digital infrastructure and digital publishing services for approximately 1,500 daily and weekly newspapers and shoppers. The company was founded in 1890 and is based in Davenport, Iowa.
Bankruptcy Exit
LEE exited chapter 11 bankruptcy in late January. The bankruptcy was different than most in that stock holders retained a significant portion of the company. In the deal, debt maturities amounting to nearly $1 billion were extended through December 2015 and debt holders received a 13% equity stake in the company. The company's financial position is now much stronger than what it was prior to bankruptcy.
Will Berkshire Buy More?
I believe it is likely that Berkshire continues to buy shares of LEE for a few reasons. Firstly, it is likely that Buffett wanted to keep the position from being disclosed because he intends on buying more shares. Also, it is unlikely that Buffett would have started accumulating the stock if he was only interested in 1.66 million shares. Perhaps Buffett will slow his buying now that shares have moved significantly, but on a pull back I believe Buffet will continue to buy LEE. Ultimately, Buffett could be interested in buying the whole company. The new stake in LEE comes just after Berkshire announced plans to purchase most of the newspapers owned by Media General Inc (NYSE:MEG) for $142 million and provide the company with a $400 million credit line.
My Take
I would not be a seller into the Buffett rally in LEE. Rather, I would look to buy shares if the stock gives up gains anytime soon. The company is now in better shape financially and Buffett's commitment to the newspaper business in general makes me more confident that LEE will continue to be accumulated by Berkshire.
Disclosure: I have no positions in any stocks mentioned, and no plans to initiate any positions within the next 72 hours.