After we read Berkshire Hathaway's (BRK.A, BRK.B) recent 13-F filing that Berkshire had purchased 10M shares of General Motors (NYSE:GM), we analyzed GM versus Ford Motor Company (NYSE:F). We were blown away at the interest our analysis report generated and have decided to expand further our analysis and evaluation on Berkshire's GM investment and Ford versus GM.
In analyzing and evaluating Ford (F) versus General Motors we will analyze the following important items of interest when investing in the automotive sector:
Automotive industry environment factors
Debt Capital used by F and GM and by F's and GM's automotive and financial segments
Company liquidity
Pensions and other post-retirement benefits
Equity Capital Position of Ford and GM
We previously discussed that in books written about the Warren Buffett way of investing, that automakers would not typically be found in Berkshire Hathaway's portfolio, due to the following negative factors associated with the industry:
Capital intensive nature of the automobile manufacturing business,
Cyclicality of demand for automobiles
Exposure foreign competition in mercantilist countries (countries that subsidize its exports and put tariffs on imports from America) like Germany, Japan, China and Korea
Lack of rational regulation of imports and parity tariffs by the United States
Burdensome environmental, product, safety and labor regulations and
Inverse relationship with the price of oil. As oil prices go down, automaker sales and profits go up and the opposite occurs with interest rate increases. Because OPEC is made up of countries that are downright hostile to American interests, OPEC has a bias towards higher prices for a barrel of crude oil, resulting in headwinds to the automakers.
As the automakers have been forced to rationalize operations in the wake of the crisis, we can see why there is renewed interest in the stocks of automakers. Besides Berkshire Hathaway, notable institutional investors in General Motors include the following:
The Capital Group of Companies (American Funds and Affiliates): 5.94%
Greenlight Capital, Inc (NASDAQ:GLRE): 0.95%
Goldman Sachs Asset Management (NYSE:GS): 0.6%
Taconic Capital Advisors: 0.6%
Mason Capital Management LLC: 0.5%
Notable institutional investors in Ford Motor include the following:
Evercore Trust Company: 6.82%
Wellington Management Company: 3.07%
Hartford Capital Appreciation Fund and Vanguard Wellington Fund
Government of Norway Sovereign Fund 1.36%
George Capital Management, LLC
Automaker Debt Capital Position: It has been said that because Ford did not discharge its liabilities during a bankruptcy and bailout process, that Ford is heavily indebted and is at risk of bankruptcy, particularly if the global economy turns south. We wholeheartedly disagree with that assessment. Ford has over $100B in total short-term and long-term debt, which represents 55.2% of total company assets. While $100B in total debt may seem like a lot at first glance, we noted that $86.8B (86.4%) of this debt belongs to Ford Motor Credit. We believe that Ford Motor Credit can support this level of debt as it has $86.2B in auto loan and operating lease receivables, coupled with nearly $13B in cash and liquid securities. Ford Motor Credit's net book value represents 8.42% of total division assets, which is a higher level of equity-to-assets ratio vs. J.P. Morgan Chase (NYSE:JPM), which up until it reported its $2B trading loss boasted a fortress balance sheet and impeccable reputation due to its ability to handle the global financial crisis.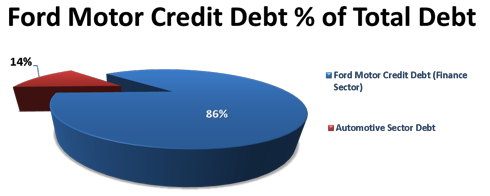 Source: Ford's Q1 10-Q Report
Automaker Liquidity: It is true that Ford has more automotive sector debt than General Motors ($13.7B for Ford versus $5.4B for General Motors). GM also has significantly higher automotive sector cash than Ford ($31.7B for GM versus $23.1B for Ford). However Ford has more total cash due to the cash held by Ford Motor Credit. Plus unlike General Motors, Ford did not need to discharge its debt and other liabilities through a government sponsored bankruptcy and bailout process. Secured creditors of Ford have a higher degree of confidence that their secured interest in Ford isn't going to be seized by the government and given to the federal government, a foreign government, a labor union and an unprofitable Italian automaker. We can see why Moody's and Fitch have raised Ford to investment grade.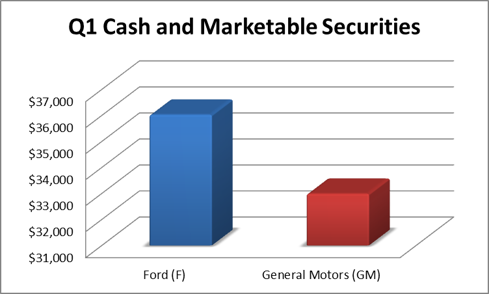 Source: Q1 10-Q Reports from Ford and General Motors, Amounts in $Ms
Pension and Post-Retirement Benefit Plans: While General Motors may have had government assistance in discharging a significant portion of its debt and other liabilities, GM's $8.3B debt advantage versus Ford is almost offset by its difference in pension and other retirement benefit liabilities net of pension and other retirement assets. GM's underfunded employee benefit plans exceed Ford's employee retirement plan deficit by $8.1B. Furthermore, Ford is offering a pension buyout to 98,000 of its U.S. based salaried retirees in order to shed one-third of its U.S. Pension gross liability. The first wave of offers will reach 12,000 to 15,000 randomly selected workers by the end of the summer. Ford will roll out the rest of the offers over 12 months. We noted that General Motors is also considering a pension buyout, which we believe is in response to Ford's initiative.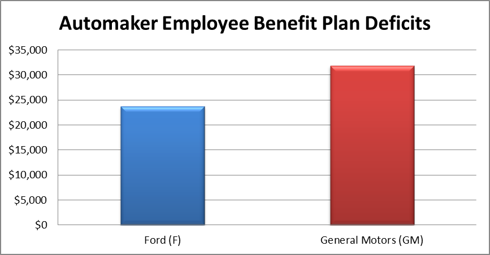 Source: Q1 10-Q Reports from Ford and General Motors, Amounts in $Ms
Automaker Equity Capital: General Motors had 136% more common shareholders' equity than Ford even though GM had fewer assets than Ford as of Q1 2012. At first glance it appears that General Motors has a much stronger capital position. However, as Lee Corso would say, not so fast my friend! We can see that Ford has a stronger tangible equity position due to the following factors that we observed:
Ford Motor Company has more finance assets and liabilities than General Motors, due to the fact that GM sold GMAC to private equity firms in 2006 in an attempt to raise cash and stave off bankruptcy.
General Motors has $38.1B in goodwill and other intangible assets larded onto the balance sheet as the result of the bankruptcy, reorganization, bailout and IPO. This represents over 95% of its total equity position.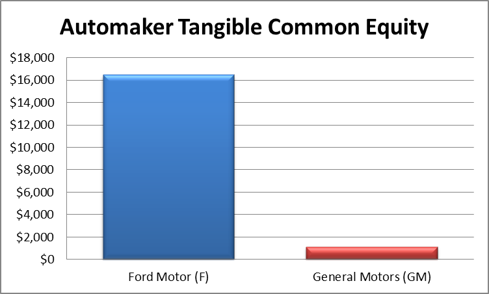 Source: Q1 10-Q Reports from Ford and General Motors, Amounts in $Ms
Based on the original 11 reasons we articulated in our initial analysis, and with the four additional factors we analyzed and evaluated today, we believe that if investors want to follow Berkshire Hathaway into the automotive sector, we believe that investors will go further with Ford Motor instead of Government Motors . We would rather be invested in a completely private, family influenced business rather than a product of government-sponsored crony-capitalism. We are fascinated how despite shedding over $100 billion in liabilities due to its bankruptcy, General Motors generates lower profits and free cash flows than Ford. The only advantage GM has versus Ford is a greater Asian and Latin American presence and that is partially threatened by having to bequeath its automotive technology to SAIC Motor at the behest of the Communist Chinese government.
Disclosure: I am long BRK.B, GLRE.
Additional disclosure: Saibus Research has not received compensation directly or indirectly for expressing the recommendation in this report. Under no circumstances must this report be considered an offer to buy, sell, subscribe for or trade securities or other instruments.