Backlogs are nice. Wall Street looks for big backlogs of orders to have confidence in future earnings. Infrastructure plays like JEC and SGR, oil drillers like SLB, and aircraft builders like BA, all appeal in part by the extent of their robust backlog of business. The Street buys them on the expectation that these orders will come to fruition.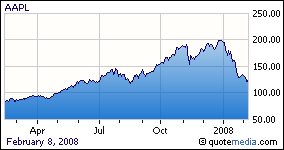 Apple (NASDAQ:AAPL) doesn't have backlogs but they do have something a whole lot better, something which the Street does not fully take into account. When Apple sells some of its products--iPhones, iTVs, and Applecare--it doesn't book its profits and revenues right away. Instead it "defers" them, meaning that it spreads them over the "life" of the product.
With Applecare (the company's customer support service), this makes sense in that the expenses of this item do keep occurring over the 2 or 3 year life of the contract. The iPhone and iTV may be a different matter. Let's look at iPhones because iTVs make up a far smaller market.
Last quarter, Apple sold 2.3 million iPhones. Only a small portion of their revenue was officially booked in the quarter. As noted in Form 10Q of First Quarter 2008,
Net sales of iPhones and related products and services were $241 million in the first quarter of 2008 with iPhone handset unit sales totaling 2.3 million...iPhone net sales include the portion of handset revenue recognized in accordance with subscription accounting over the product's 24-month estimated economic life, as well as revenue from sales of iPhone accessories and carrier agreements.
That means that, although Apple declared $241 million in iPhone revenues last quarter, they "deferred" the rest over a 2 year period and the AT&T contract revenues over "time as earned" (
Apple F4Q07 conference call
).
To date these deferred revenues have become substantial: current quarter revenue deferred iPhones and iTV (Apple doesn't separate the two) are $816 million with a total of accumulated deferred revenues of $816 million + $624 million, or 1.4 billion dollars in future revenues to be spread out over approximately the next 7 quarters. That doesn't include the rest of the also substantial AppleCare and other deferred revenues which together with the iPhone/iTV create a total deferred revenue base of 3.288 billion. Exactly how much of these deferred revenues will become profits is not exactly clear from SEC filings and conference calls. The SEC 10Q notes:
For both Apple TV and iPhone, the Company indicated it may from time-to-time provide future unspecified features and additional software products free of charge to customers. Therefore, sales of Apple TV and iPhone handsets are recognized under subscription accounting in accordance with SOP No. 97-2. The Company recognizes the associated revenue and cost of goods sold on a straight-line basis over the currently estimated 24-month economic lives of these products with any loss recognized at the time of sale. Costs incurred by the Company for engineering, sales, marketing and warranty are expensed as incurred.
It would seem reasonable to assume that most of the revenues streaming from AT&T contracts will go to the bottom line in that there should be few costs to offset these gains. iPhone hardware component costs probably will be expensed over a 24-month period, likely leaving around 25-30% in profit margin on sales. Sales, marketing and engineering likely were paid currently and are unlikely to affect the deferred revenues. Apple therefore seems poised to bring the lion's share of its deferred revenues to the bottom line.
Conservatively, iPhone profits alone that have been deferred this quarter should be $400-450 million dollars that will be recorded over the next 20 months. The $400-450 million dollars is over a quarter of the current quarter's declared net income. To date, there are $3.288 billion in deferred revenues, of which a great amount will turn to declared revenues and profits. Each quarter Apple keeps plowing iPhone sales and contract earnings into that "deferred revenue", guaranteeing a steady stream of income for years to come.