An ongoing theme from a global standpoint is a growing population, particularly if one looks at emerging markets. Along with growth in raw numbers, more and more emerging economies have a growing middle class. The growth of the middle class means that diet changes along with the growth of things like vehicles, and electronic gadgetry.
The May 30th print edition of the Financial Times ran an article noting that China has upped the import of corn, and is expected to become the world's 4th largest buyer of corn, behind Japan, South Korea, and Mexico. The US Dept. Of Agriculture estimates that China will import a record 5M tons of corn, surpassing the prior peak of 4.7M tons which occurred during a drought in 1994-1995.
After reading the article, as an income-oriented investor, I started thinking about which firms involved in this sector would be worth investigating as potential additions to my retirement portfolio. Let me hasten to say that I don't trade commodities directly, and have no expertise in that area, so I started searching for firms involved in almost all aspects of production of soft commodities. I deliberately didn't look at the dry bulk shippers, because the glut of tonnage still out there suggests that the hard times for that sector will remain intact for some period of time.
I started out by looking at manufacturers of agricultural equipment, and turned up the following prospects:
Deere & Co. (NYSE:DE)
CNH Global NV (NYSE:CNH)
Somewhat surprisingly (to me, at least), Morningstar shows Caterpillar, Inc. (NYSE:CAT) as a "competitor" to DE. While at least technically true, CAT's primarily noted for construction and mining equipment.
CNH was formed by the 1999 merger of Case IH and New Holland. Currently Fiat owns 90% of CHN, and is in the process of acquiring the balance of the shares outstanding, and combining it with Fiat Industrial.
Consequently, the somewhat obvious choice is DE, which is hardly a hardship. The company is trading just below the middle of the 52 week trading range of $59.92-$89.70 with a yield of 2.57%. While 2.57% is hardly an eye-watering yield, DE has been increasing the dividend on a steady basis from $.22 share/quarter back in 2007 to a current $.46 share/quarter. The combination of a rising dividend, and capital appreciation from the current level should furnish an investor with a satisfactory total return.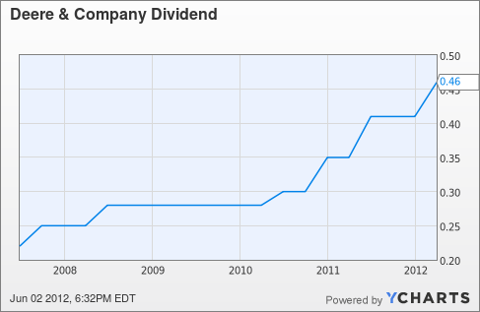 Click to enlarge
(Click to enlarge)
Moving to the seed side of things brings me to Monsanto Co. (NYSE:MON), E.I. du Pont de Nemours & Co. (NYSE:DD), and Syngenta AG ADR (NYSE:SYT).
MON also sports a steadily increasing dividend, as well, but from a lower base, resulting in a yield of of only 1.58%. Between that, and the fact that the firm's suffering from pushback regarding genetically modified seeds and what are seen as "user unfriendly" marketing practices, I'm not much of a fan of this firm.
SYT is the result of spin-offs of Novartis' crop protection and seed business combined with AstraZeneca's agrochemical business. This Swiss giant yields a somewhat better 2.32%. Unfortunately, as is typical of many European firms, the dividend is only paid annually, and is "lumpy", which diminishes the appeal to many, if not most income investors.
DD is a chemical conglomerate, but the agricultural side of the business is a large segment of the firm. In fact, in 2010, the "agricultural and nutritional" segment was the single largest component, generating 28% of the firm's revenues.
DD provides the investor with a fairly respectable yield of 3.64%, based on June 1st's closing price of $47.53. Dupont (DD) most recently raised the dividend from $.41 to $.43, a 5% increase payable on June 12, 2012 to shareholders of record May 15, 2012.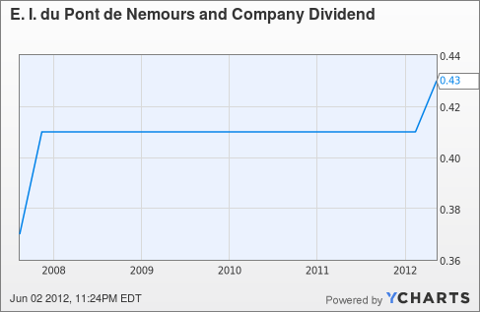 Click to enlarge
(Click to enlarge)
In summation, both DE and DD are worth serious consideration by income seeking investors, and/or those managing their retirement portfolio.
I'll be following up with another article exploring some of the other firms that stand to benefit from global population growth.
Disclosure: I have no positions in any stocks mentioned, and no plans to initiate any positions within the next 72 hours.