Let me explain what I mean by the title of the article. Investors were clearly disappointed with the way the Facebook (NASDAQ:FB) IPO was handled. For reference, please read my article entitled Facebook IPO - A Nightmare For So Many. One of the main issues with the IPO was the valuation of the company going forward and the number of shares available for the public to trade. Now traders clearly do not believe Facebook deserved the high share price of $38.
Looking at these issues, one cannot help but look at LinkedIn (NYSE:LNKD), another popular social network and ask some of the same questions. Is this company really worth the current stock price? To answer that, I will draw some comparisons.
Facebook's business model differs from LinkedIn; they are both social networks, but Facebook relies on advertising to a much greater extent than LinkedIn. Facebook gets the majority of its income (82%) from advertising and it also pulls in revenue from game apps like Zynga's (NASDAQ:ZNGA) Farmville. LinkedIn gets 54% of its revenue from recruiting services, 28% from advertising, and 20% from subscriptions and consistently beats on earnings according to Businessinsider.com.
Facebook currently trades at around $28 a share, with 2.1 billion shares outstanding and a trailing 12-month P/E of 89. LinkedIn trades at around $92 a share with 103.3 million shares outstanding and a trailing 12-month P/E of 566. That's 6 times what Facebook, the largest social network on the planet, trades for.
Facebook's earnings per share in 2011 was 43 cents; in 2012 they are projected to be 55 cents, a 28 percent increase. LinkedIn earnings per share in 2011 was 35 cents, in 2012 they are projected to be 68 cents, a 94 percent increase. Definitely a much faster rate of growth than Facebook is projecting, but only 13 cents difference in revenue per share. Cash flow per share is projected at 46 cents per share for Facebook and 1.62 per share for LinkedIn. That's 3.5 times better than Facebook, but does it justify a 6 times better P/E ratio?
This difference in valuation is unlikely to hold up. 2 possible scenarios could play out:
1. Investors will change their current opinion of Facebook's valuation and start running the stock up similar to what has been done with LinkedIn, but probably only after it delivers consistent results as a publicly traded company.
2. LinkedIn investors will begin to sell, bringing the valuation more in line with the Facebook model.
It is hard to argue against option number 2, for a number of reasons. First, people spend more time on Facebook than they do on LinkedIn, which will increase the advertising revenue possibilities, even for mobile once they get that figured out. According to the Wall Street Journal, users spent 405 minutes on Facebook in January 2012 versus only 17 minutes on LinkedIn. This is a significant difference and could influence investors and advertisers opinions on where to spend their money.
Taking a look at technical indicators on the stock chart for LinkedIn, there is trouble. On Friday the stock breached its 100-day moving average and is now approaching the 200-day line. It has filled the March 21st gap and is struggling to find support. If it falls below $90 support it will likely reach the 200-day moving average line around $85. Selling volume has been above average, and rising, which is another danger sign and indicates the stock is under distribution. These are clearly deteriorating conditions.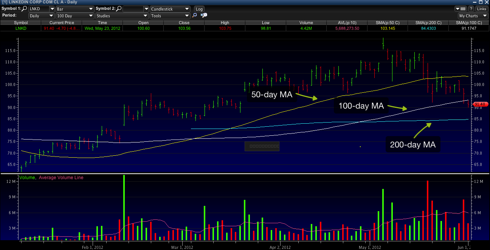 Conclusion
The internet stock bubble of the 1990s involved companies that made little or no money; today's internet bubble could very realistically involve companies like LinkedIn that are wildly overvalued. LinkedIn has a reasonable business model, but is that model worth, or are investors going to continue to pay, a P/E ratio above 500, 400, 300? I would argue the company is well run, but the opportunities are not so different from the Facebook business that it would command such a difference in value per share. In the difficult market correction we are entering, it is unlikely it can be sustained, and as the chart clearly shows, it's already under stress and likely to go lower.
Disclosure: I have no positions in any stocks mentioned, but may initiate a short position in LNKD over the next 72 hours.